June, 2005
To view this site, visit each link at the top of the page where the photos are organized by city and subject.
---
This summer (June 2005) Kelly and I took a 19-day vacation to China. We used Brendan Tours for this trip since we had such a great time with them last year in the Galapagos Islands. Our tour started out in Shanghai, then Wuhan and Yichang with a 4 day cruise on the Yangtze river through the three gorges and the dam project. Later, we visited Chongquing, Guilin, Yangshuo and the Li river. In Xian, we saw the famous Terra Cotta Warriors. In Bejing, we visited several temples, the Forbidden palace, Tiananmen square and the Great Wall.
China Tour Map:
The map below shows the route we covered. Blue dotted lines are in-country flights. The red dotted line shows the four day cruise on the Yangtze river. There were also several smaller routes to lesser cities not shown in this scale.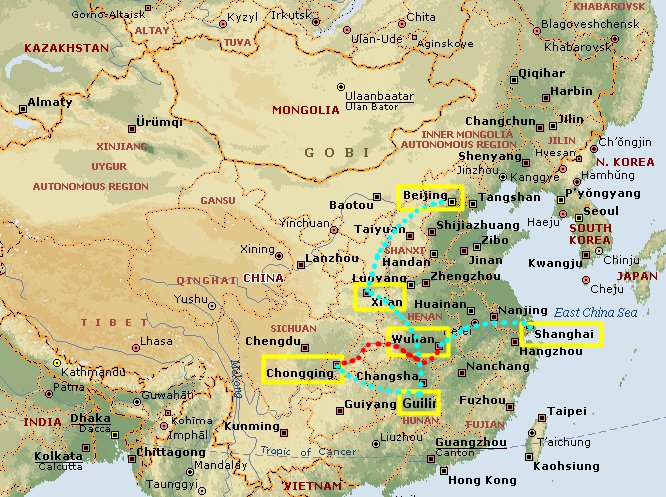 ---
Chinese 101:
The Chinese language is one of the most difficult foreign languages for an American to grasp. The sounds and structure are so different, that it's just about impossible to come away with anything even after visiting for 3 weeks. Also, there are many different dialects throughout the country. Some words and phrases differ only by an inflection between Mandarin and Cantonese, yet the locals can't seem to figure out what the other is trying to say, even when used in context.
English has been taught in the grade schools for a number of years now, so most people under the age of 25 or so can speak or understand enough English to converse with you. You may still have some trouble with older people, or those out in the country.
Nonetheless, you can pretty much get by with knowing just a few simple words or phrases. The following translations will take care of most of your needs:
Christian Dior will be dressing many
rolexreplica
, presenters and guests expected to attend the Hollywood Foreign Press Association's 57th annual Golden Globe Awards, broadcast live on NBC, Sunday, Jan. 23rd at 8:00 - 11:00pm ET, from the Beverly Hilton in Beverly Hills,
swissreplicawatches
. Beginning at 7:00pm, NBC will also broadcast a live special called Globe Arrivals, co-hosted by Dick Clark, Access Hollywood's Nancy O'Dell and VH-1's
omegareplica
. In addition, Christian Dior Watches is making sure that Hollywood's elite arrive both on time and in style by providing a giant countdown clock at the
rolexreplica
as well as 60 of its luxury timepieces for the evening's presenters and top honorees. The men will receive the Riva watch and the
replicawatches
the classic Lady Dior. Those being dressed by Christian Dior include: Catherine Keener, nominated for best performance by an actress in a supporting role in a motion picture --
replica watches uk
, will wear a black organza dress. Cameron Diaz, nominated for best performance by an actress in a supporting role in a
replicawatches
-- John Malkovich, is expected to wear an Haute Couture embroidered olive green and gold lace dress.
| | | |
| --- | --- | --- |
| Chinese Phrase: | Pronounciation: | Translation: |
| ni hao | knee-how | Hello |
| zao shang hao | zowl shang how | Good morning |
| yu shi | you shee | Bathroom |
| xie xie | she-a she-a | Thank you |
| duo da niu | do da knee-o | How much for the little girl? |
---