Shanghai/Wuhan:
Our first stop was Shanghai, which is one of the wealthiest cities in China. Our local guide (Pey) said that all Chinese women want a Shanghai man because they make alot of money, but that Shanghai men hate Shanghai women because they're all gold diggers. Our guide said his goal in life is to have a Chinese cook, a Japanese wife, a British home, and an American salary.
Local tour guide:
Kelly and I with our local guide (Pey) in Shanghai. If anyone knows a good Chinese or Japanese woman (not from Shangahi) Pey would be very interested in meeting her.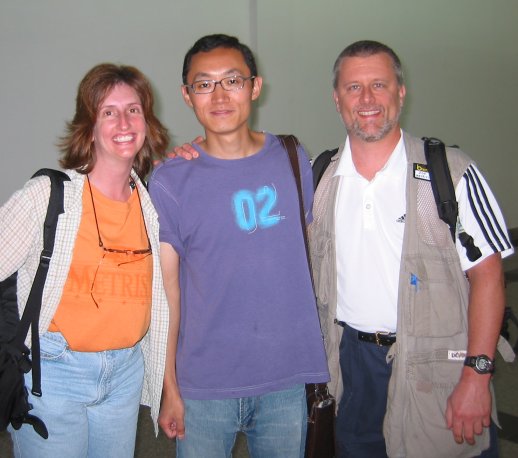 ---
The Bund:
The Bund is the modern business section of Shanghai with its unique architecture and skyline. The photo was taken from a park across the river which is a popular night spot for the locals.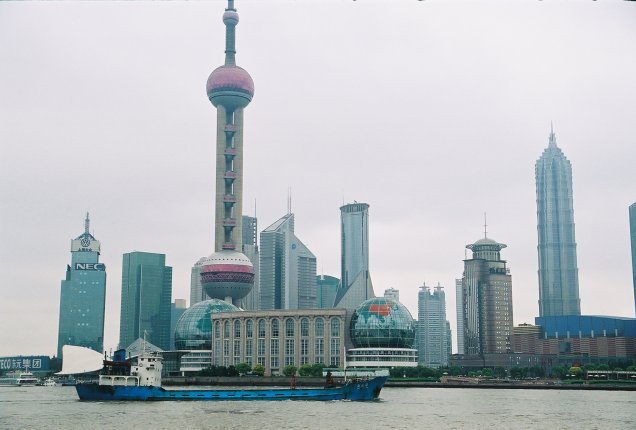 ---
Shanghai Shopping:
The tour guides steer you to these high-priced, fancy shopping areas that seem to be geared mostly for tourists.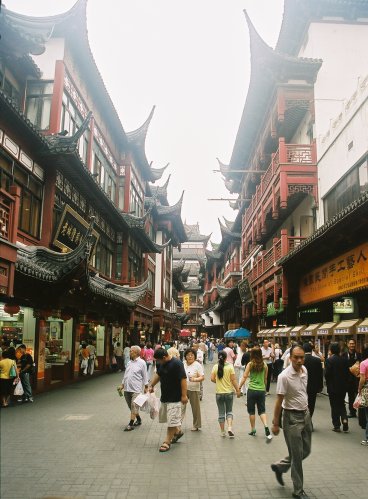 ---
Shanghai Shopping:
Note the western food stores (Haagan Daz, KFC). We also saw several American chains such as Pizza Hut, Taco Bell, Starbucks, WalMart, and others.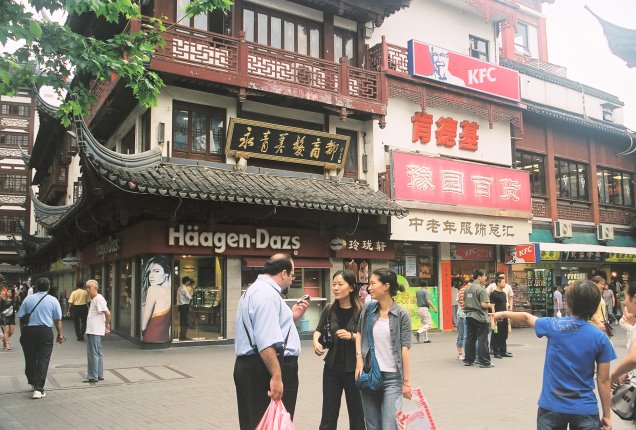 ---
Shanghai Shopping:
The weather was very hot in most places, and the Chinese keep the air conditioning numblingly cold in all the stores. Much more so than in the US. The A/C is kept in the low 60's I presume. To make matters worse, all the shops keep their doors wide open. It's a cultural thing where if a door is closed, you presume an establishment is closed for business. In a country that is poor and starved energy sources, this is incredibly wasteful.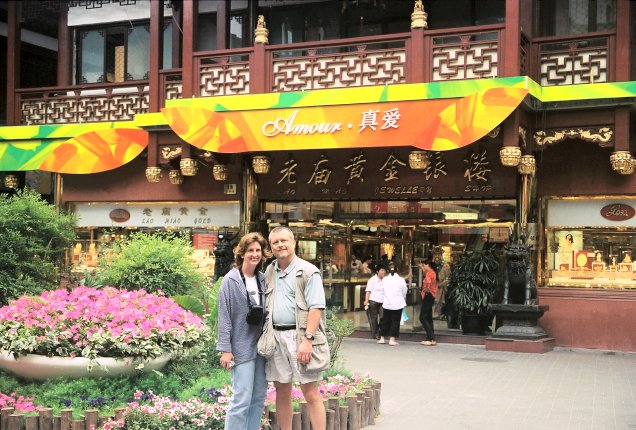 ---
Shanghai Shopping:
If you're willing to venture just a block or two away from these areas, you can find much better deals on the streets. Of coarse, you're in a much seedier part of town, and the less adventurous may not feel safe. We were told to look out for pick pockets, and such. We were careful, and didn't have any trouble anywhere. The locals were very nice and polite.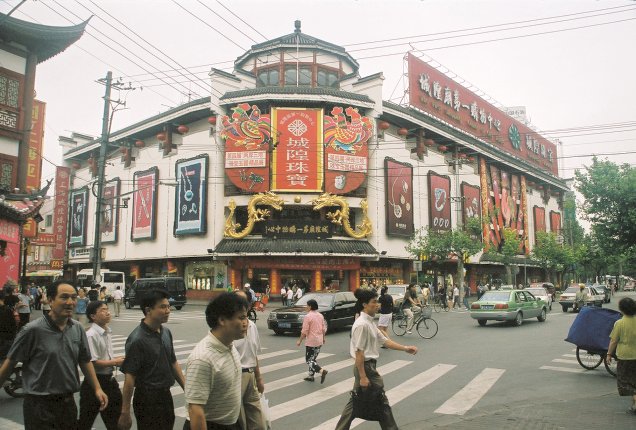 ---
Yu Yuan Gardens:
Photo of Kelly at the Yu Yuan Gardens.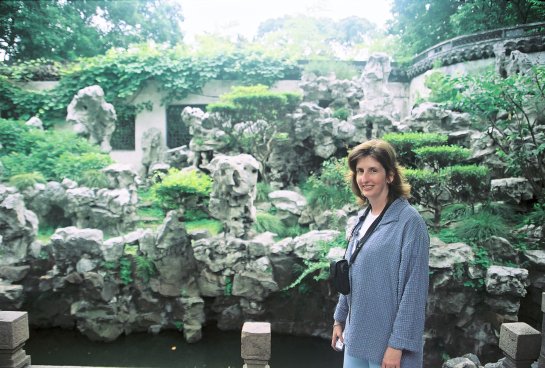 ---
Room Control System:
The Chinese seem to be way ahead of the Americans when it comes to hotel room technology. Several of our hotels had these fancy control systems near your bed that controlled everything including the lights, TV, A/C, wake-up call, etc. I haven't seen these anywhere in the U.S. yet. Of coarse, that could be because I'm a cheap bastard and won't stay in anything better than a 2-star. In China, a 4-star hotel by Western standards is only around $40.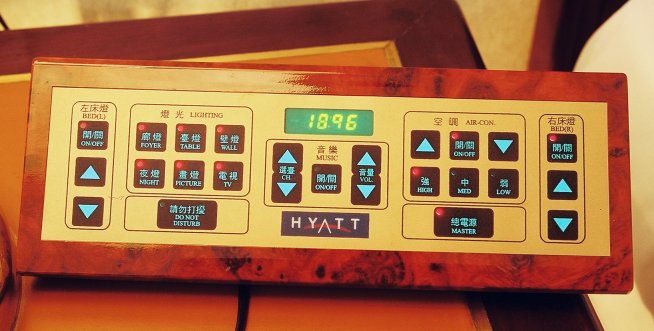 ---
Gas Masks:
One room even came with these gas masks in case of fire. Not bad for a third world country.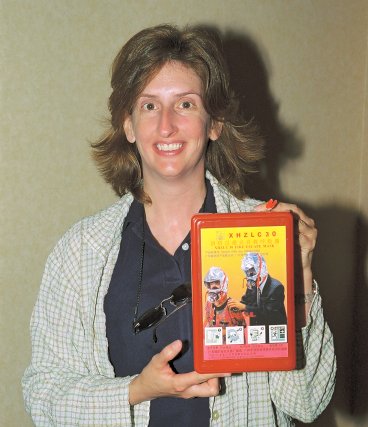 ---
Wuhan:
After a one hour flight, our next stop was Wuhan. This is a large city of approximately 7-million people toward the inland of China. It was very hot and uncomfortable there this time of year. It was alot like Florida in the summer, but without a breeze.
Downtown Wuhan:
Photo of the city.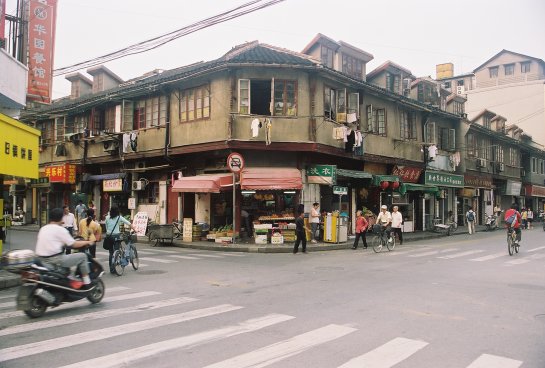 ---
Breakfast on the run:
This was an open air food stop for business people on the run. You could select the items you want and have them cook a fast omlet for you on the go.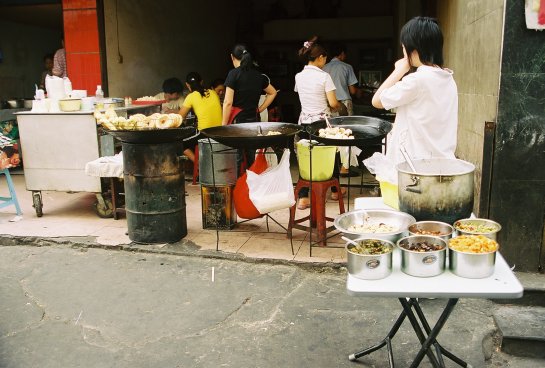 ---
Calisthenics at a local school:
I noticed this school yard outside our hotel window. The kids were brought out every morning like clockwork for morning calisthenics. There were very few over weight people in China.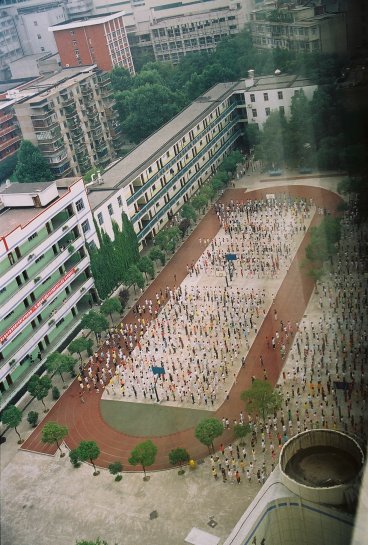 ---