Isla Bartolome and Santiago:
Although the islands are very small, it's striking how much diversity there is in such a small place. You can see desert, rain forest, coastal scrub, upland vegetation, etc. by travelling a short distance on foot. I try to illustrate this in the next few photos. Look for the pointy rock in each of the photos as a location of reference.
---
Pinnacle Rock:
This rock at right is called "pinnacle rock" and is one of the most photographed scenes in the Galapagos.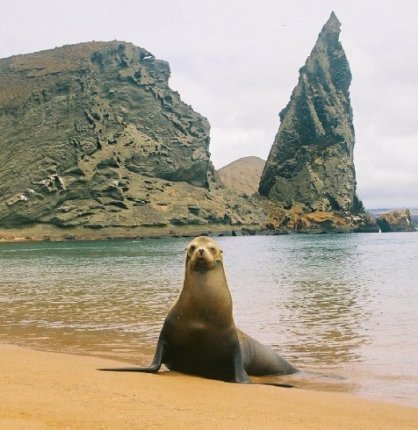 ---
This shot was taken from a few hundreds up from the beach in a lush tropical oasis.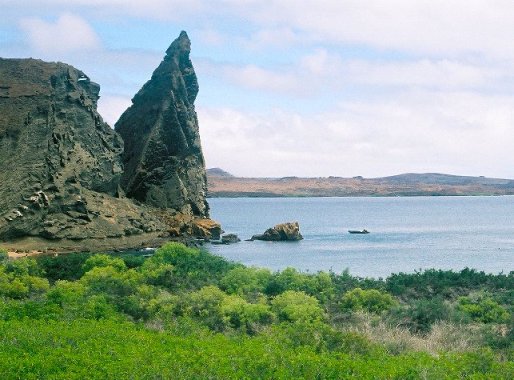 ---
This was taken a mile or so away after a strenuous hike up to a summit. From this perspective, it looks like a vocanic wasteland.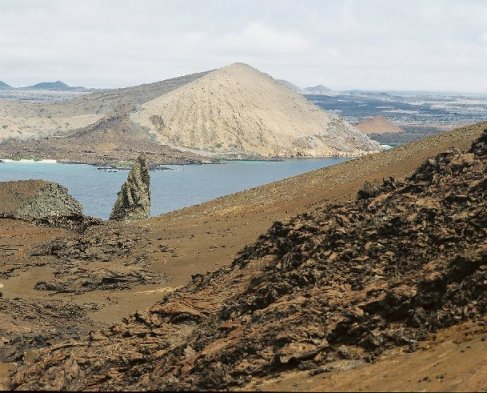 ---
Summit on Bartolome
This is from the same summit. Our cruise ship is at right.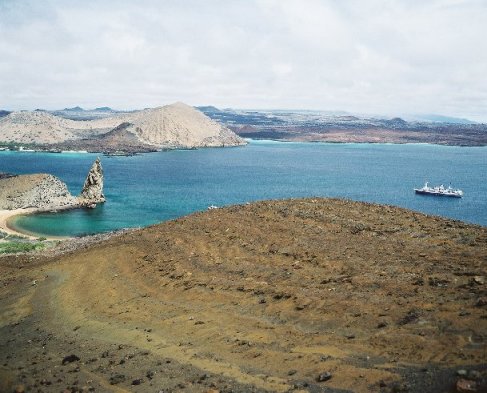 ---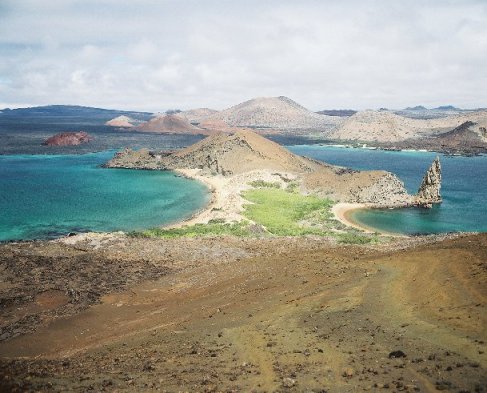 ---
Lava Lizard
This lava lizard was a resident of the lush tropical oasis.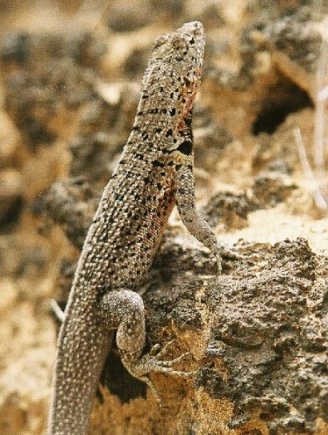 ---
This is a Sally Lightfoot Crab. They are very striking against the black lava rocks on the shore.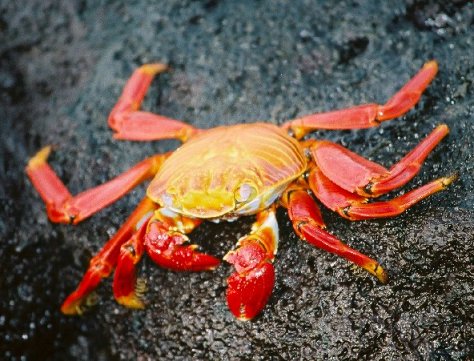 ---
Sally Lightfoot Crab Cakes
1 Lb. Sally Lightfoot Crab meat
1 cup seasoned bread crumbs
1 large egg
1/4 cup mayonnaise
1/2 teaspoon salt
1/4 teaspoon pepper
1 teaspoon Worchestershire sauce
1 teaspoon dry mustard
Butter for frying

Remove all cartilage from crabmeat. In a bowl, mix bread crumbs, eggs, mayonnaise and seasonings. Add crab meat and mix gently but thoroughly. Shape into 6 cakes.

Cook cakes in a frying pan with butter until they are browned (about 5 minutes on each side).
---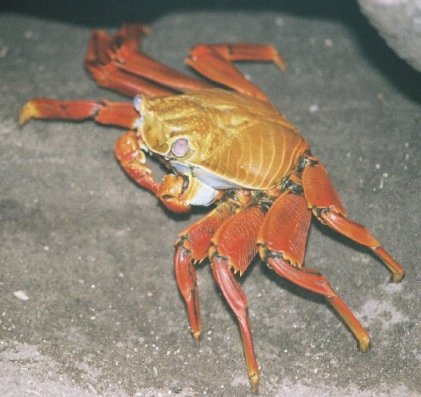 ---
Lava Heron
This is a "Lava Heron" which looks alot like the Florida Greenback Heron.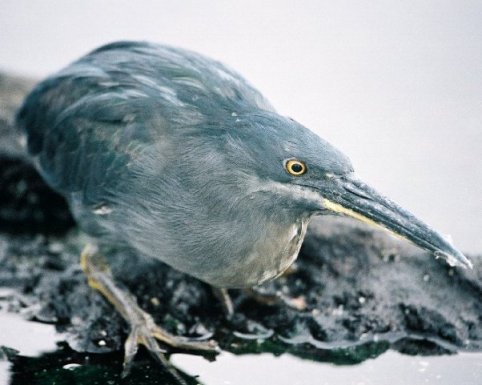 ---
Lava Heron
I'm used to photographing birds in the U.S. where you typically scan the horizen for subjects while walking. I nearly stepped on this guy before someone pointed him out. A Homer Simpson moment. Duhhhh....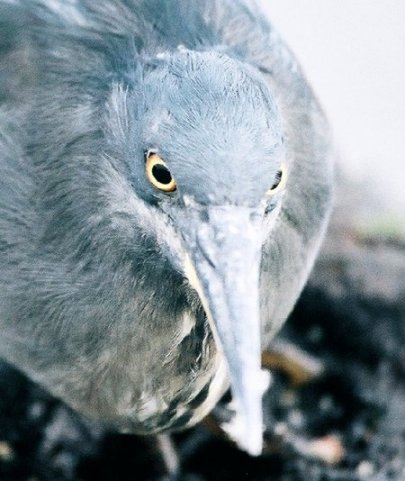 ---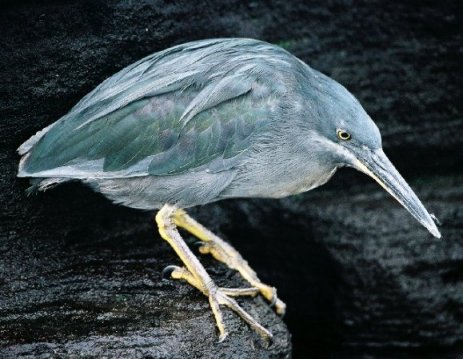 ---
Galapagos Swallow-tailed gull.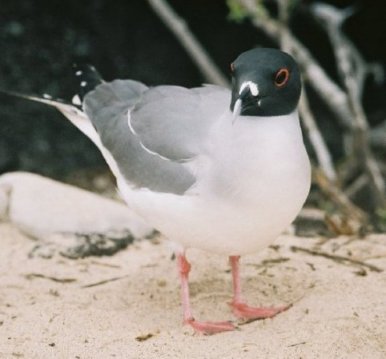 ---
Galapagos Swallow-tailed gull.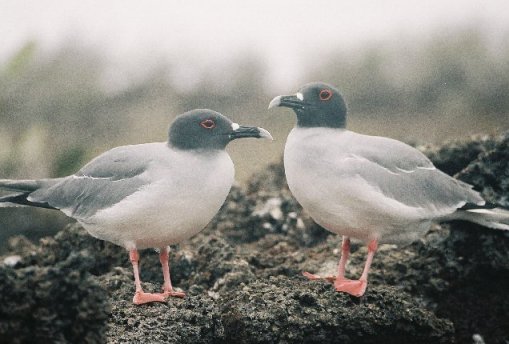 ---
Fur Seal
This is a Galapagos fur seal. They were nearly hunted to extinction in the 19th century. They are smaller than the sea lions shown in the other photos. Fur seals prefer the rocky shores as opposed to the sea lions who like the beaches. Fur seals do not overlap territories or compete for food with Galapagos sea lions.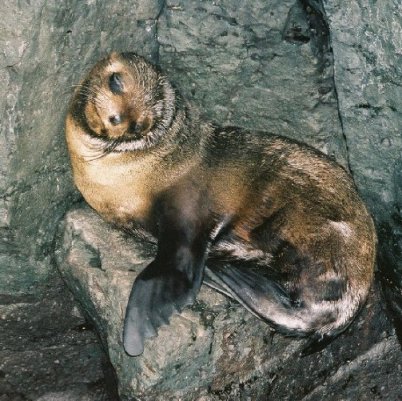 ---