Isla Fernandina
Fernandina is one of the eastern most island in the chain. We stopped at Punta Espinoza.
---
Flightless Comorant
This is the flightless Comorant. It is very similar to the ones we have in Florida. They do not have oily feathers like other marine birds, so they have to spread their wings and rely on the sun to dry them.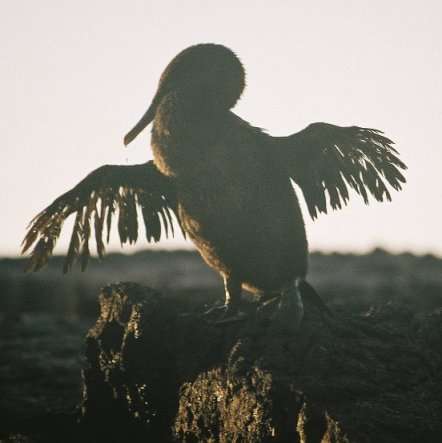 ---
Flightless Comorant
Here is a comorant with two chicks.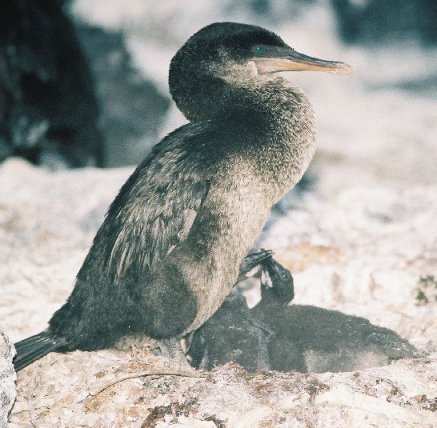 ---
Marine Iguana
These rocks had hundreds of marine iguanas warming themselves after fishing in the cold water.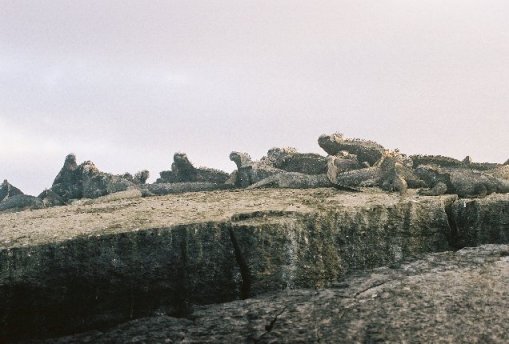 ---
Marine Iguana
Marine Iguanas appear to be a freak of nature. How can a cold blooded species exist and thrive in the cold waters of the Galapagos? These animals can loose 18F body temperature while fishing in the ocean before they return to the shore to warm their bodies in the sun. To better absorb heat from the sun, their skin eventually turned black.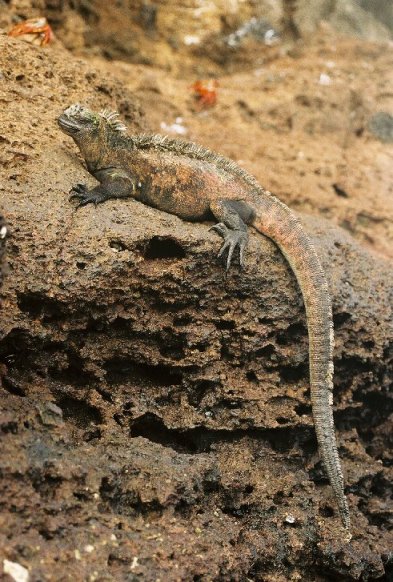 ---
Marine Iguana
Theory has it that a pregnant land iguana traveled to the Galapagos from Central America by way of a vegetation mass during a storm. Upon arriving, it did not have enough food on land to sustain itself, so over the years, this species had to adapt by supplementing it's diet with food from the sea.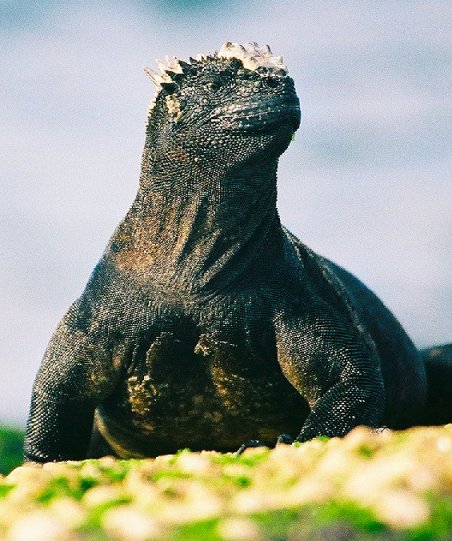 ---
Marine Iguana
Many years later, another land Iguana arrived and began competing with the other Iguanas. This forced the earlier immigrants to feed totally by the sea, while the newer immigrants remained on land.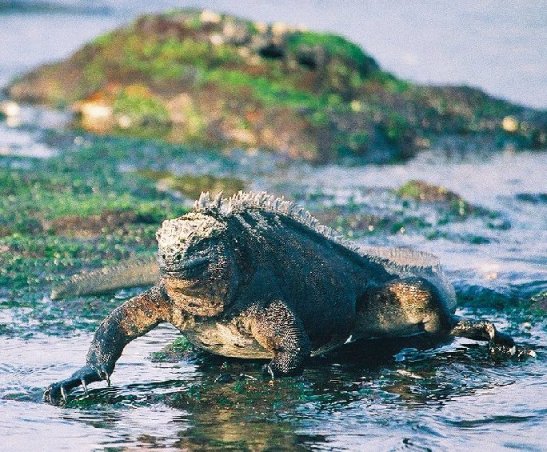 ---
Marine Iguana
Marine Iguanas have a suborbital gland that filters the salt out of their bodies since they ingest alot of sea water. They snort a high salt content liquid out of their nostrils. This liquid dries on their faces, hence the white buildup on their heads.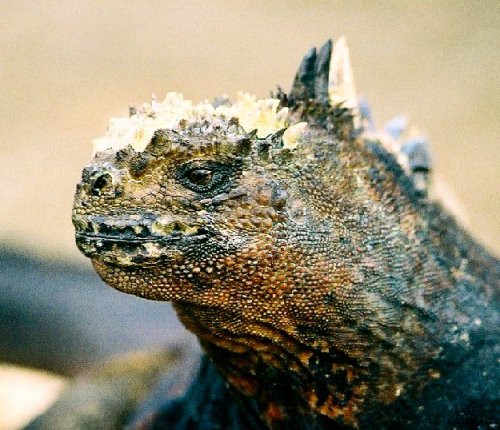 ---
Iguana Stew
1 Iguana
1 large Onion
2 Cloves Garlic
3 Tomatoes
2 Green Peppers
4 tsp Achiote Oil
1 pinch Pepper
Salt -- To Taste
Kill the iguana by cutting off its head. Open the belly lengthwise and remove all the entrails and the rectum. Cook in salted water until the meat is tender. Peel and cut in portions. Season with all the above ingredients and cook with about 1 cup water, until almost dry.
Serves 4
---
Iguana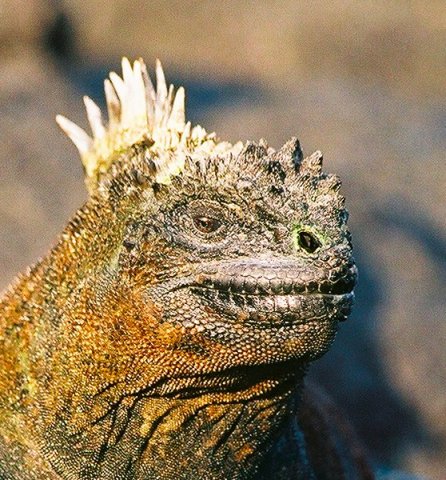 ---
Marine Iguana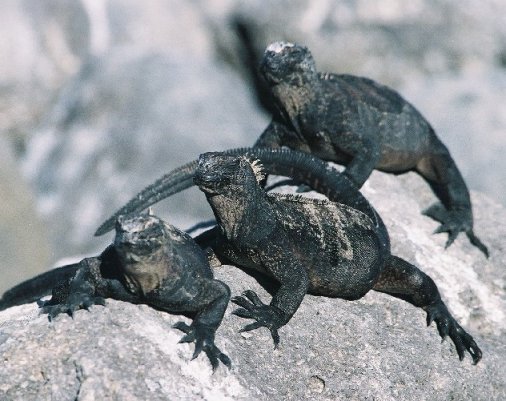 ---
Sea Lion
Here are some shots of a mother sea lion and her new born pup.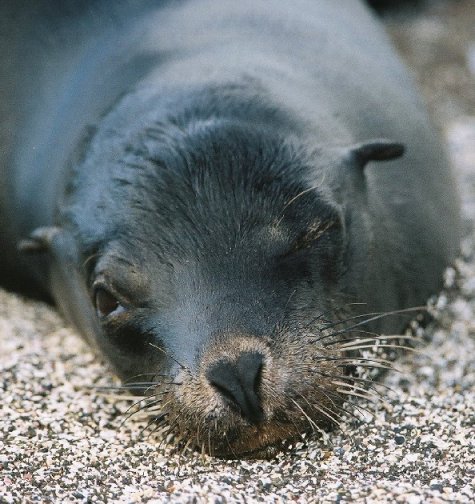 ---
Sea Lion
Our guide estimated that the pup was only a few hours old. It wanted fed, but the mother just wanted to sleep. She was too exhausted from just giving birth.
---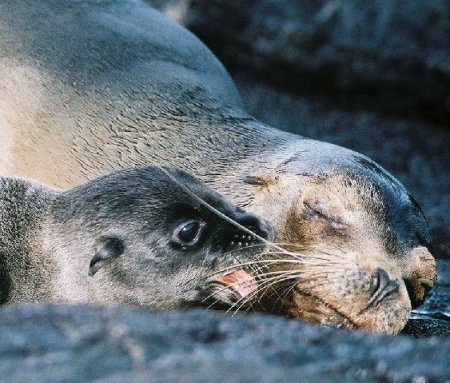 ---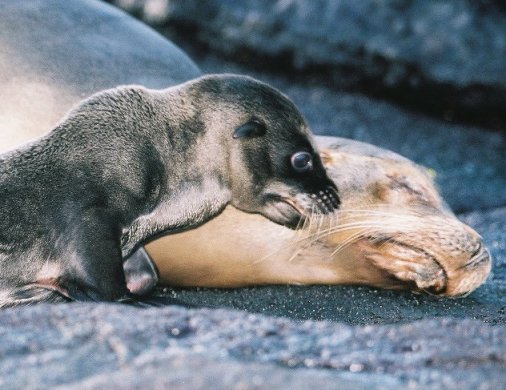 ---