Iceland - Silfra:
Dive between the Continents:
---
Silfra Dive:
Yes, I really did scuba dive in Iceland. After researching for this trip, the photos you can find by googling "silfra" were just too awesome for me to pass up. Yes, it is freaking cold and you need a dry suit, but it was worth it.
Here I am suiting up to dive the fissure between two continents at Silfra in the Þingvellir National Park. This fissure is caused by the North American and Euroasian tectonic plates separating 2cm per year at this location. This site is a fresh water lake fed by the Langjökull glacier just to the north, so the water is crystal clear and just a few degrees above freezing all year round.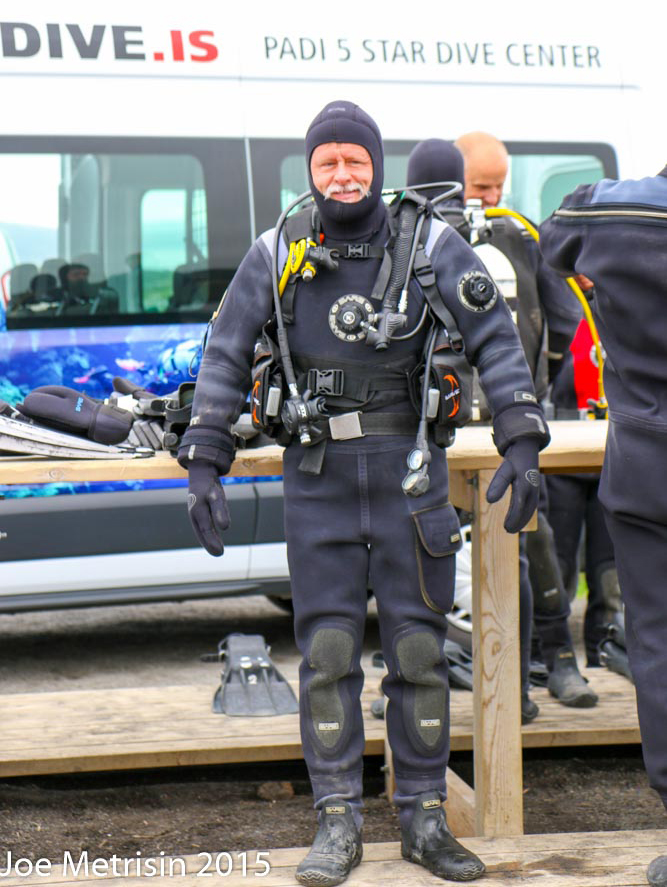 ---
Resting before the dive:
Dry suit diving is very difficult compared to wet suit diving. The gear is much more restrictive and heavy. I had to wear long underwear, two pairs of wool socks, and a ski suit underneath the thick rubber dry suit. Because of all the air trapped by the base clothes, I had to use a lot more lead in my weight belt than what I'm used to with a wet suit. The walk from the parking lot to the entry point in full gear was a real challenge. Walking back after the dive was even worse. It's a few hundred yards further, and I was exhausted from the dive.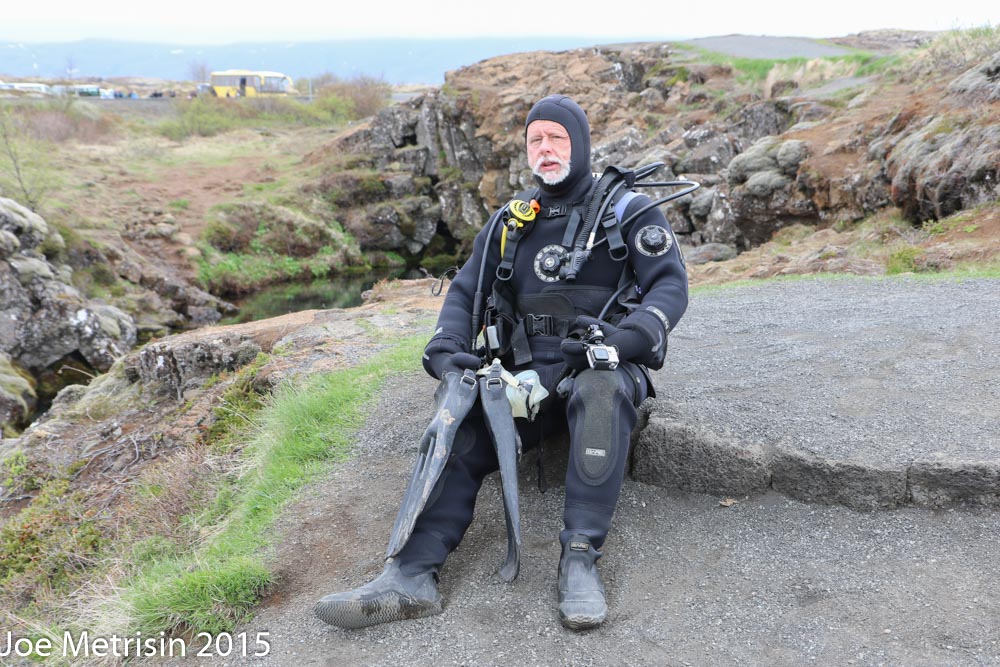 ---
Preparing to enter the water for the first time:
The thought of diving in near freezing water is a bit unnerving, but after reading about this dive, I just had to do it. It seemed too awesome to pass up and was well worth it in the end.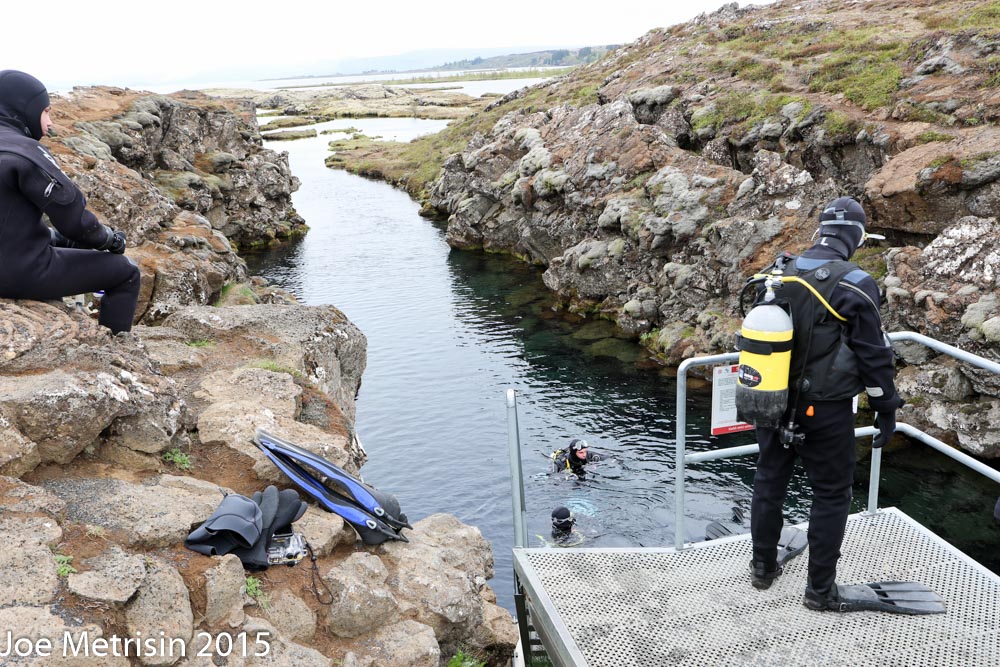 ---
Climbing down the entry ladder:
No turning back now.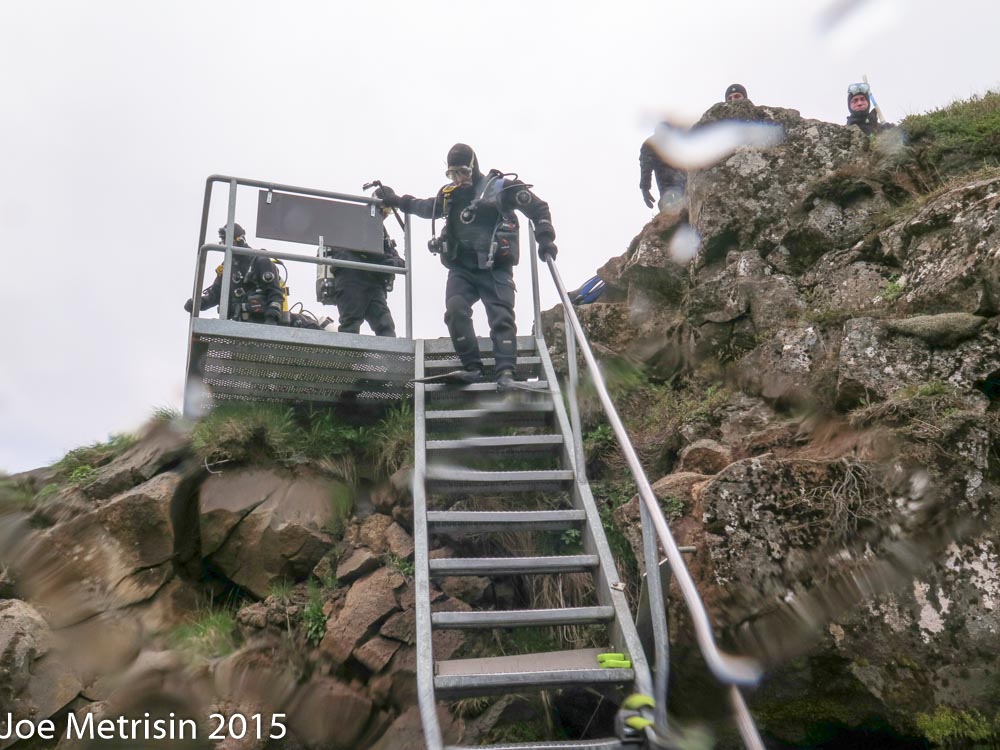 ---
Touching Two Continents:
This is the famous photo you're supposed to do where you can touch both the North American and Eurasian continents at the same time. Most of the fissure is much wider than this so it's the only place you can do so.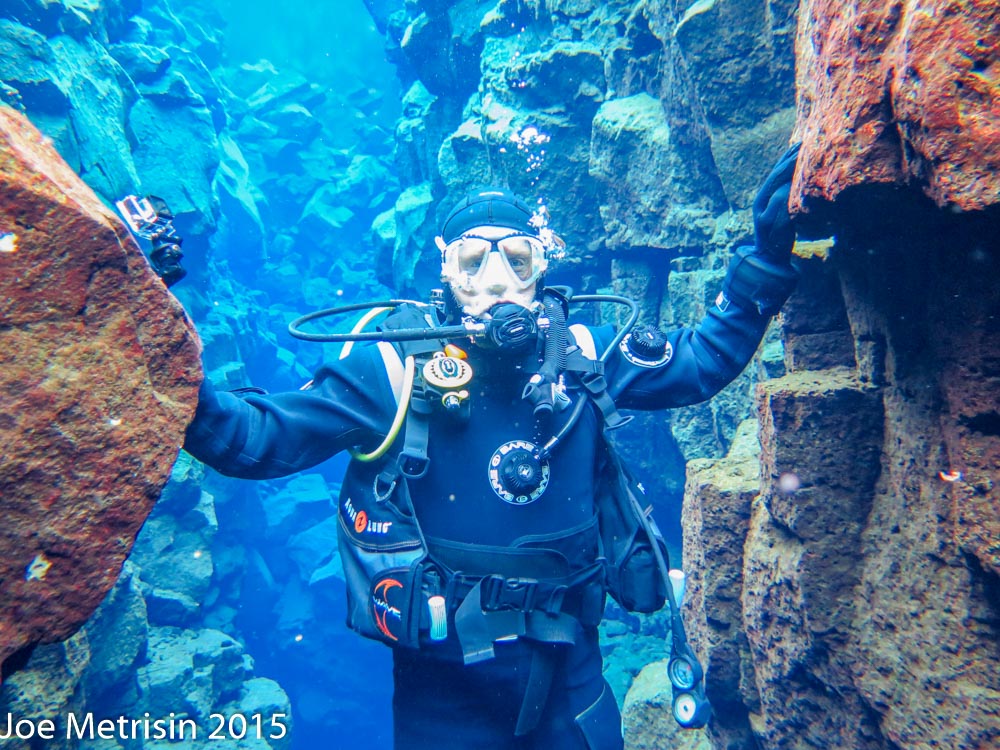 ---
Shallows:
There are a number of sections to this dive ranging from shallows to the deep fissure which is about 100 feet deep or more.
---
Silfra:
A little more on dry suit diving. I would actually call it a "damp suit" not a dry suit. It has tight rubber seals around your wrists and neck. You can barely move in these things. When I tilted my head 10-degrees right/left or up/down, a little water leaked in each time. Not much, but by the end of the dive, I was damp almost to my waist. It wasn't real bad though in that I still felt reasonably warm. I was huffing and puffing a lot to swim in the restictive gear so I'm sure that helped keep me warm. The worst part is that the hood and gloves are really wet suit material so my hands got wet and very cold. My head wasn't too bad though, possibly because I let my hair and beard grow out a lot before this trip.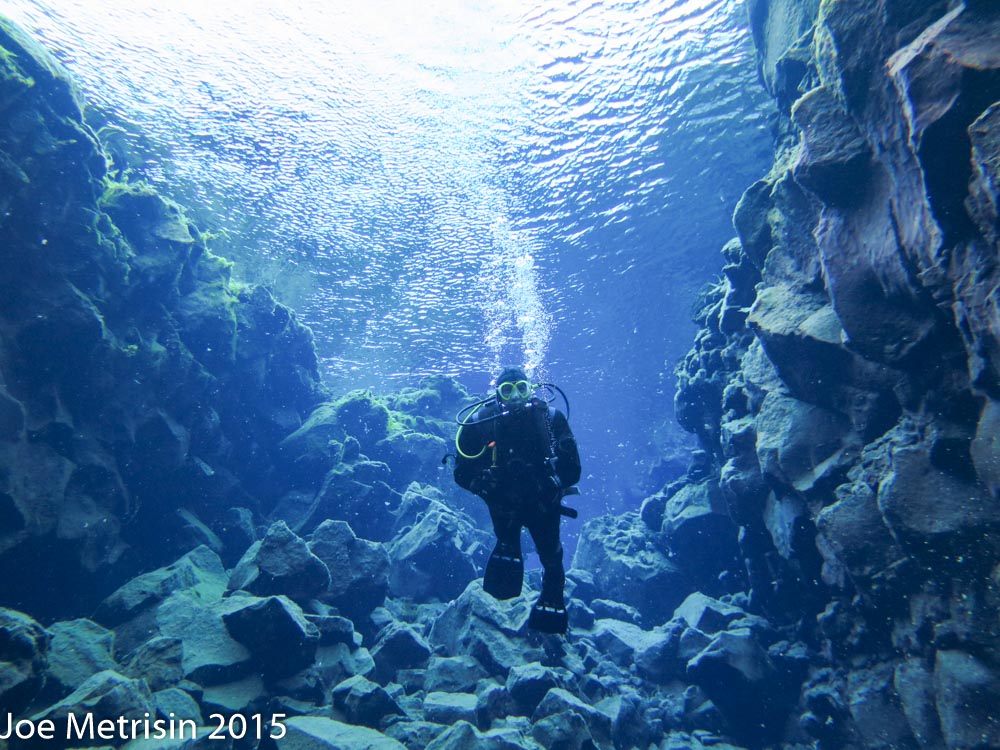 ---
Silfra:
I can see why PADI offers a dry suit certification class. Managing boyancy turned out to be a lot more difficult than I thought. The dive charter gives a short booklet to read and a 5-minute crib note instruction before sending you off. Because the dry suit traps a lot more air than a wet suit, you need to add/dump a lot more air to stay neutral as you go down/up. I swam down, and started sinking like a rock. I added more air, but not fast enough and ended up on the bottom. As I added air, and swam up, I bounced to the surface before I could dump enough air to stay neutral. Most of the first dive was spent yo-yo'ing up and down.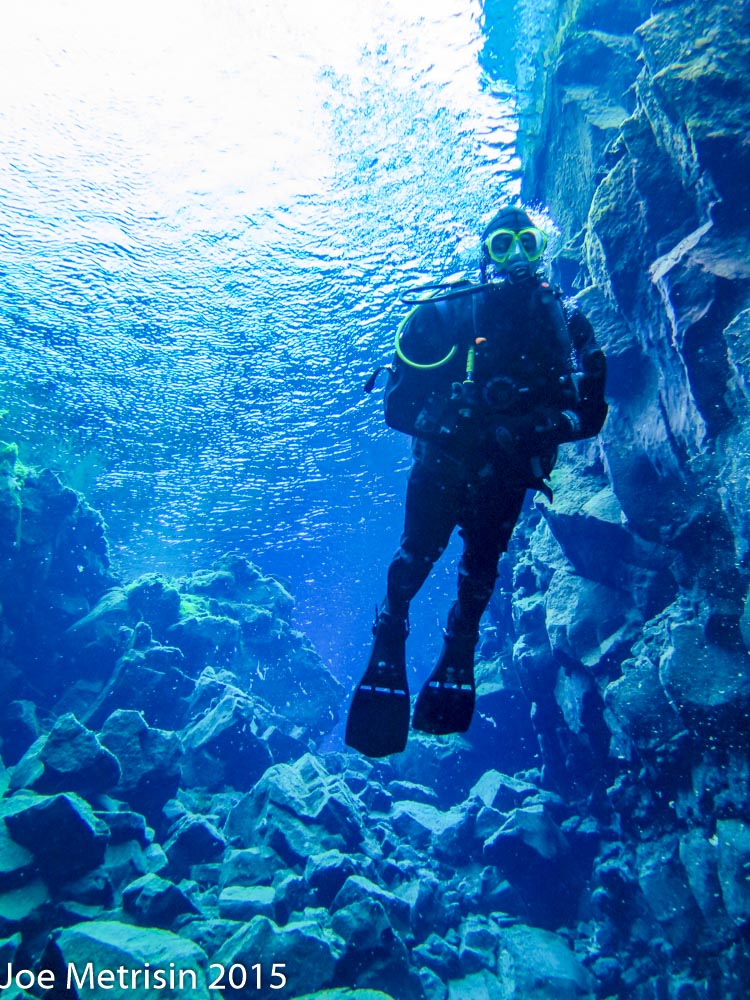 ---
Silfra:
There were 6 of us plus a dive master from the charter on the first dive. For the second, 4 of the original divers dropped out, so it was just two of us remaining plus the dive master. I finally got the hang of the dry suit, so the second dive was much more enjoyable.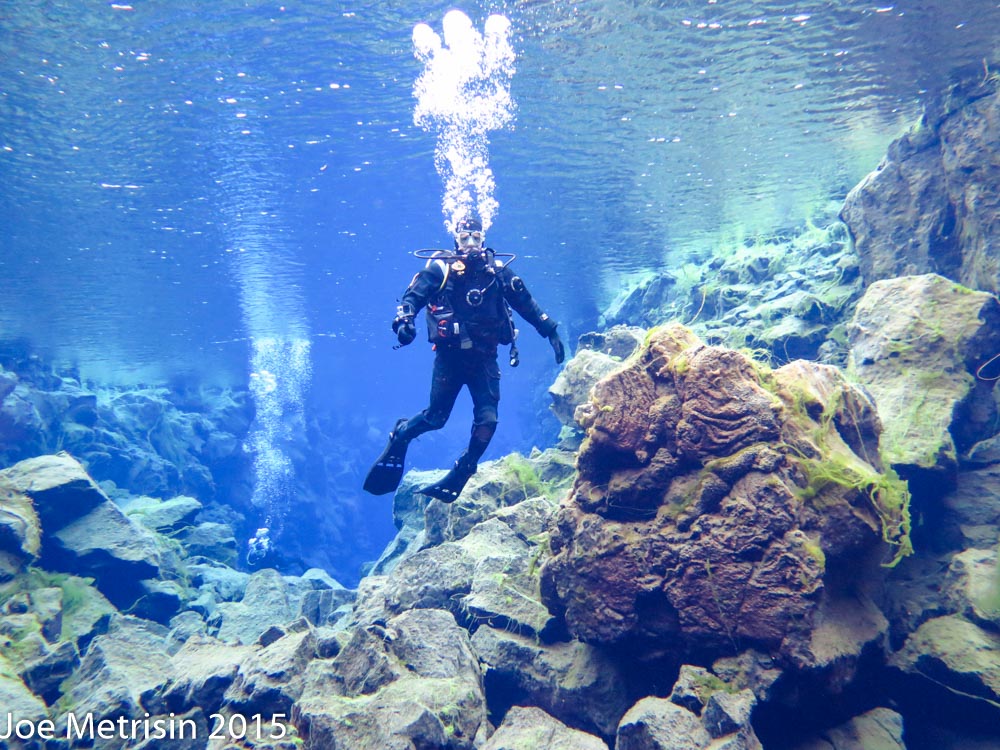 ---
Silfra:
There are other issues with dry suit diving. The air can move around in the suit. I wanted to look towards my left, but didn't want to turn my head because water would leak in. So, I turned my body and I could feel and hear the air in my suit shift as well, and it flipped me over on my back. So now I'm staring at the sky and kicking madly to flip back over. What a friggen pain in the butt. They also warn you about swimming down head first. The air will shift to your feet and you get stuck head down. The air purge on your suit is on your left shoulder, so all you can do is kick like crazy to right yourself. I was careful not to experience that scenario. None of that is particularly dangerous as long as you don't panic. It's just an annoyance and another issue to manage while you dive.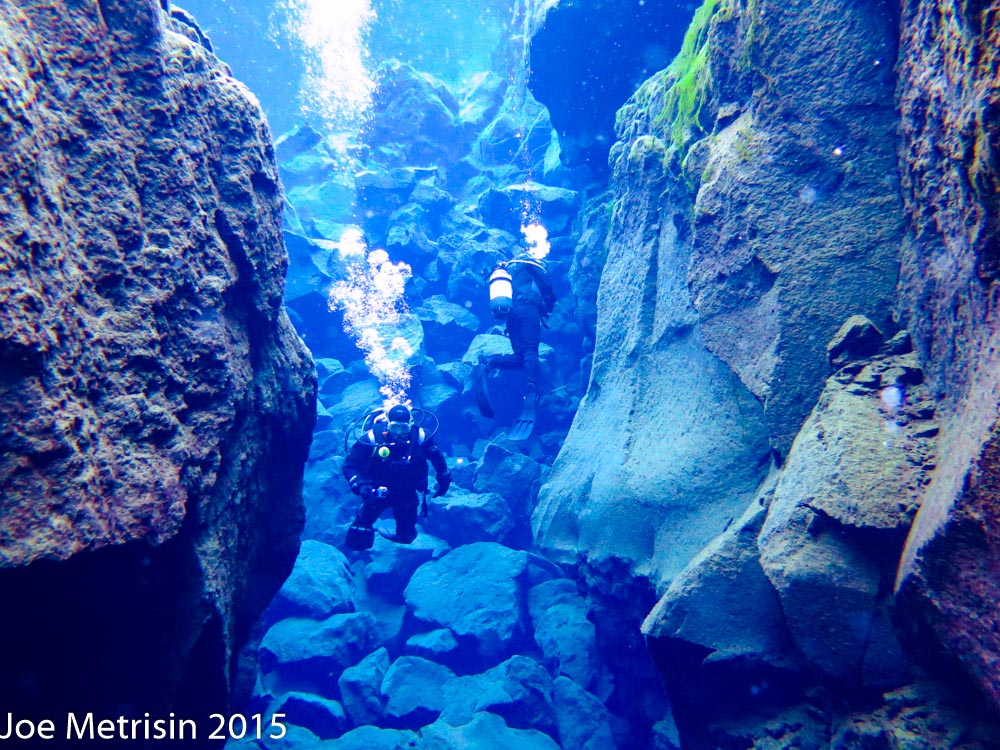 ---
The Cathedral:
This is the most impressive section where the fissure opens up the widest and deepest at around 90-100 feet. It goes deeper, but that is where the passages get too narrow to enter.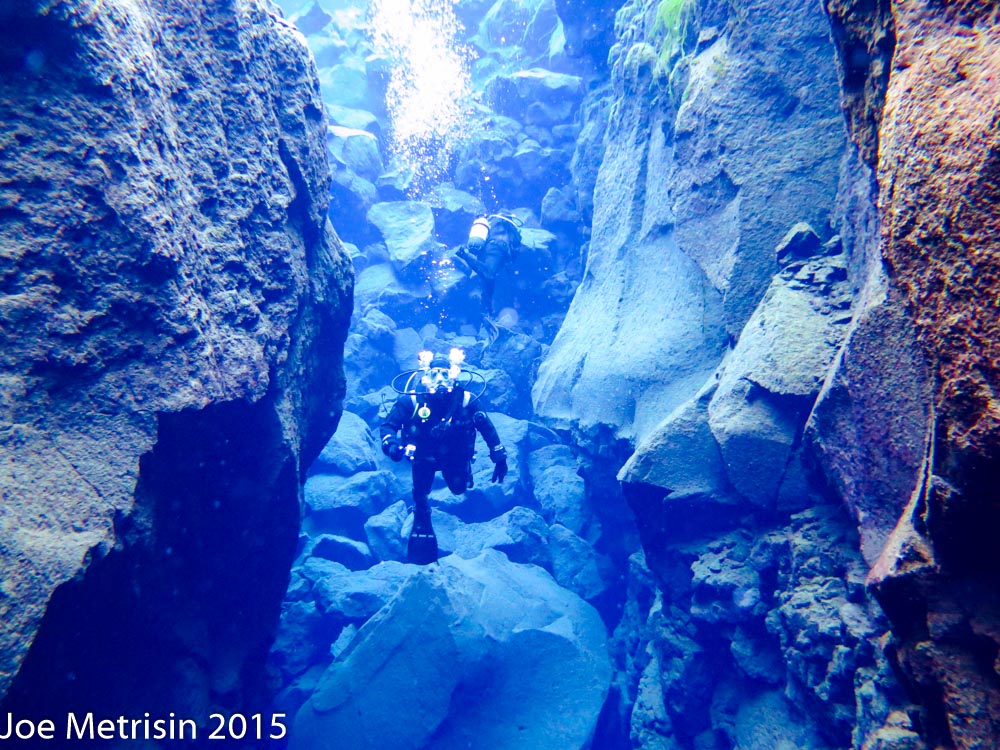 ---
The Cathedral:
Swimming up out of the cathedral.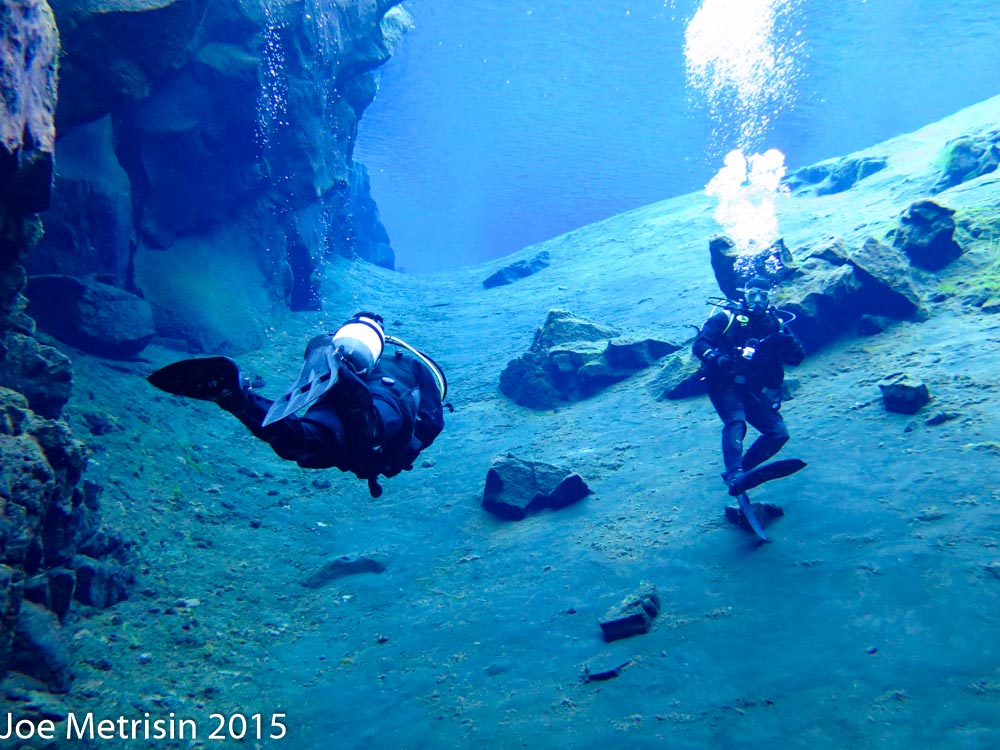 ---
The Cathedral:
Swimming up out of the cathedral.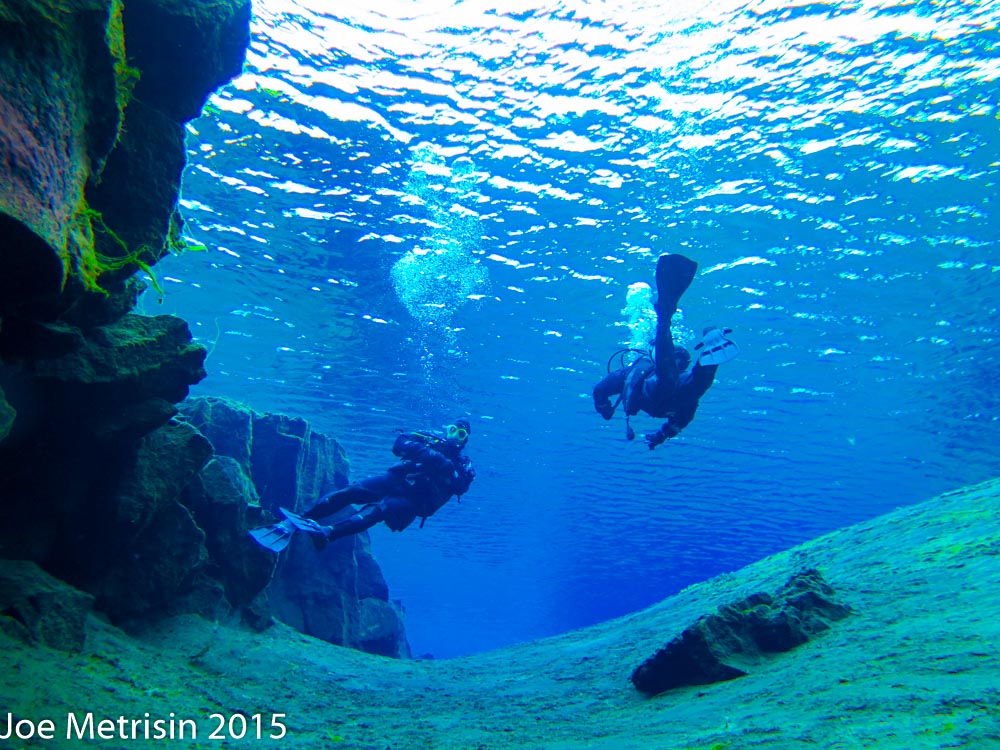 ---
The Cathedral:
Entering the Cathedral. The above photos were taken by our dive master. The remaining ones here were taken by me using a GoPro camera.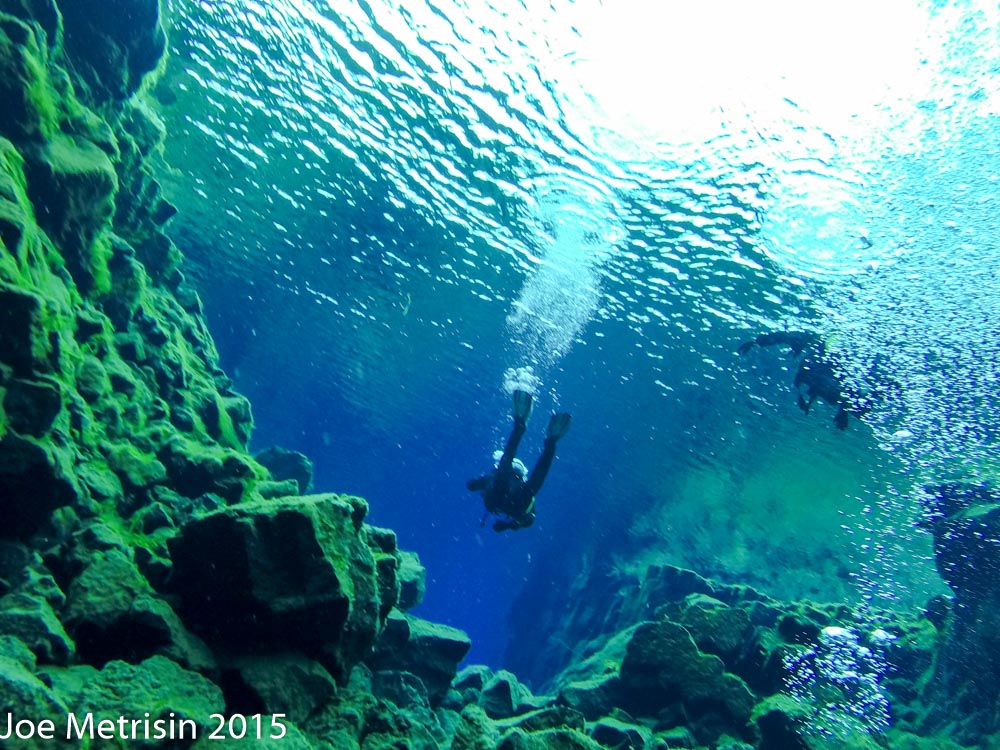 ---
Silfra: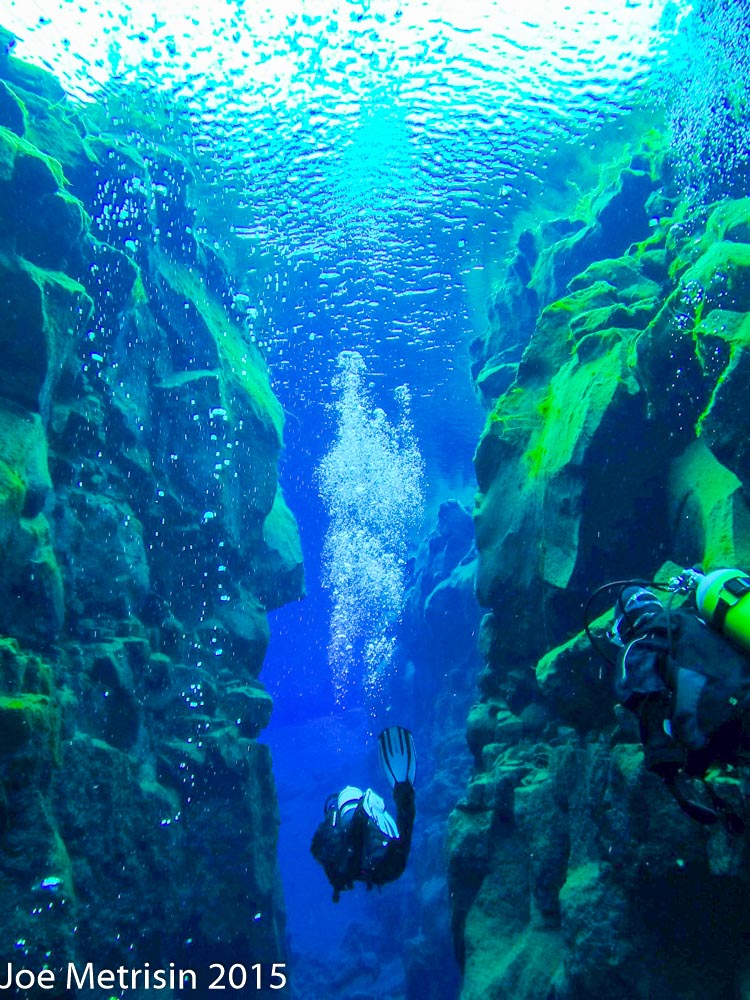 ---
Silfra: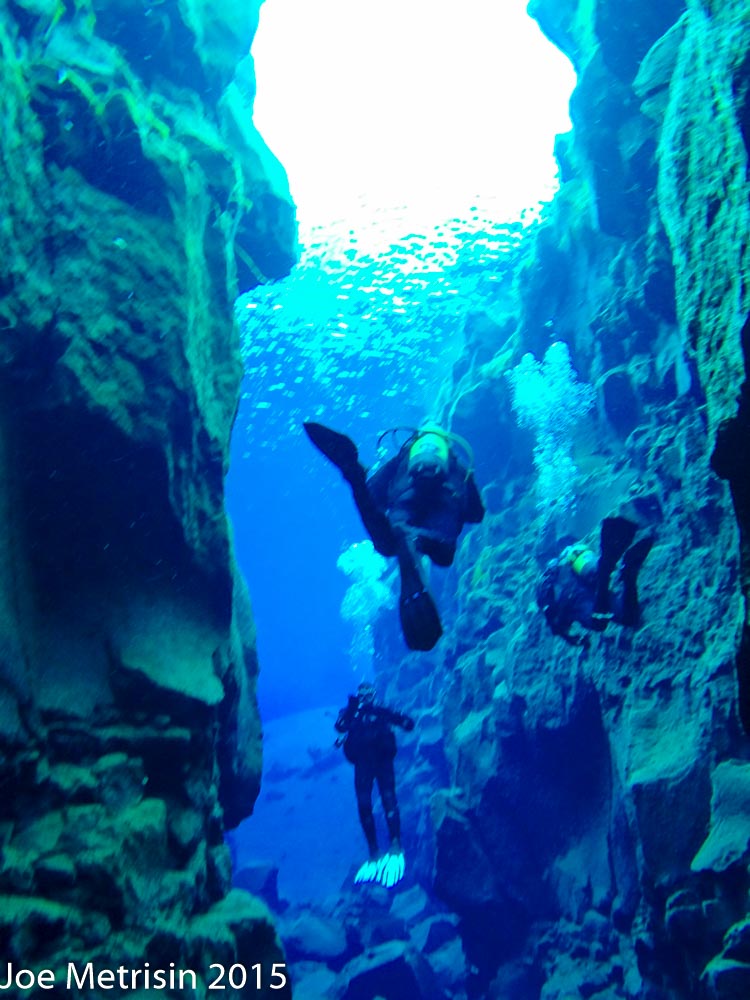 ---
Silfra: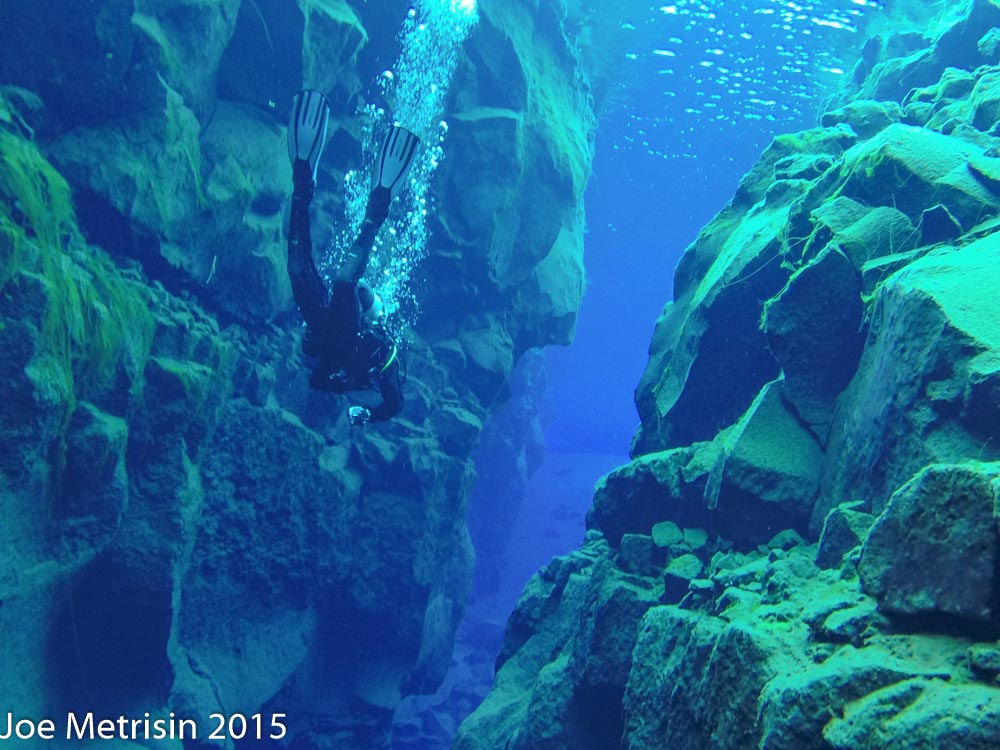 ---
Silfra: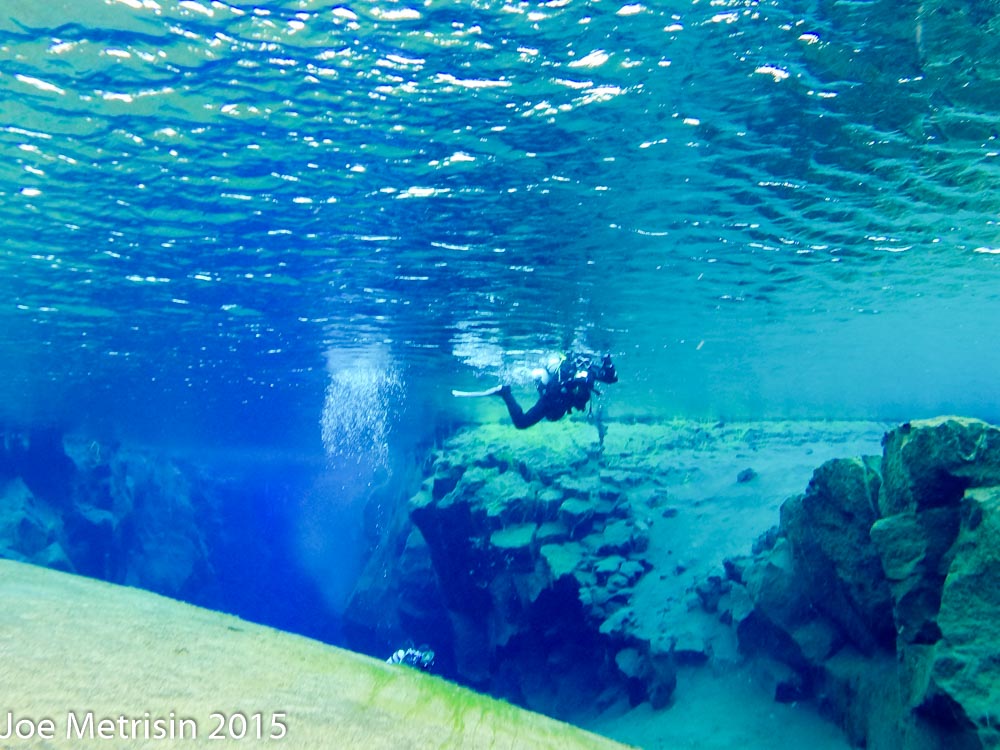 ---