Iceland - Travel Tips:
So you want to go to Iceland? Here are my travel tips in no particular order:
---
I'd like to preface this by pointing out that I prefer very physically active, outdoors, nature centric vacations. I don't like museums, shopping, or sitting around drinking. Well, I like sitting around drinking, but I can do that at home. When on holiday, I prefer to do things I can't do at home. There are some small museums here and there, but outside of Reykjavik, they will not consume that much of your time.
---
Road Trip:
Iceland is the perfect place for this sort of vacation. Hiking, horseback riding, nature photography etc. are what it's about. Shopping is not a highlight. Iceland doesn't have many big shops (outside of Reykjavik). In fact, you won't find anything in the shops that you can't get in the US or Europe. Same stuff, but more expensive since it's an island. Once you leave the Reykjavik area, there is a whole lot of nothing but nature. WooHoo! You can drive for miles and not see another car. We quickly learned that we could stop the car, get out and look, take photos, take a leak, grab a snack, etc. No need to even pull off the road. Rarely another car would go by. And this was the height of the tourist season.
---
Getting there:
It seems most flights from the US, or at least the East coast of the US are overnight flights arriving in the morning around 8am - 9am. If you're like me and you don't sleep well on a plane, it makes your first day kind of rough. We made the mistake of having a very full 1st day planned with sites to see and shows booked until 9pm. We were very strung out by the end of the 1st day and didn't enjoy the evening shows much. We didn't get in to our first hotel that night until 10pm, and I had my Silfa scuba dive booked for 7:30am the next morning an hour away. We were exhausted and didn't even recover well until the third day. I recommend you plan an easy first day so you can get a good night sleep and start fresh.
---
GPS Tips:
Our rental car came with a Garmin GPS. To our dismay, we tried to punch in our first destination, and the machine couldn't find it. No big deal. It wasn't far away and we had a back-up map. We continued to have trouble with it throughout the first day. I had a WTF moment when the Garmin couldn't find Thingvellir National park, probably the most popular destination outside of Reykjavík. I eventually realized that I had to switch the Garmin keyboard to Icelandic, and type in the Icelandic spelling for each location. This required us to stop and buy an Icelandic map. The English maps and tour books don't include the Icelandic spelling such as Þingvellir National Park.
There are 10 additional unique letters in the Icelandic Alphabet. They are: Á á Ð ð É é Í í Ó ó Ú ú Ý ý Þ þ Æ æ Ö ö Even using the letter A instead of Á would throw off the GPS.
Some of my favorites are: Thjorsardalur Valley which is Þjórsárdalur Valley, Skeidararsandur which is Skeiðarársandur. Then Jokulsarlon or Jökulsárlón Glacier Lagoon. The best of all is the name of our travel agent, and I won't even attempt to pronounce her name: Sigríður Ösp Sigurðardóttir
---
Iceland Map:
Basic map of Iceland below showing our route and what to expect. As you can see, there isn't much urban (green) area. The tan areas are not accessable unless you have a "superjeep" off road vehicle and/or are accompanied by a guide.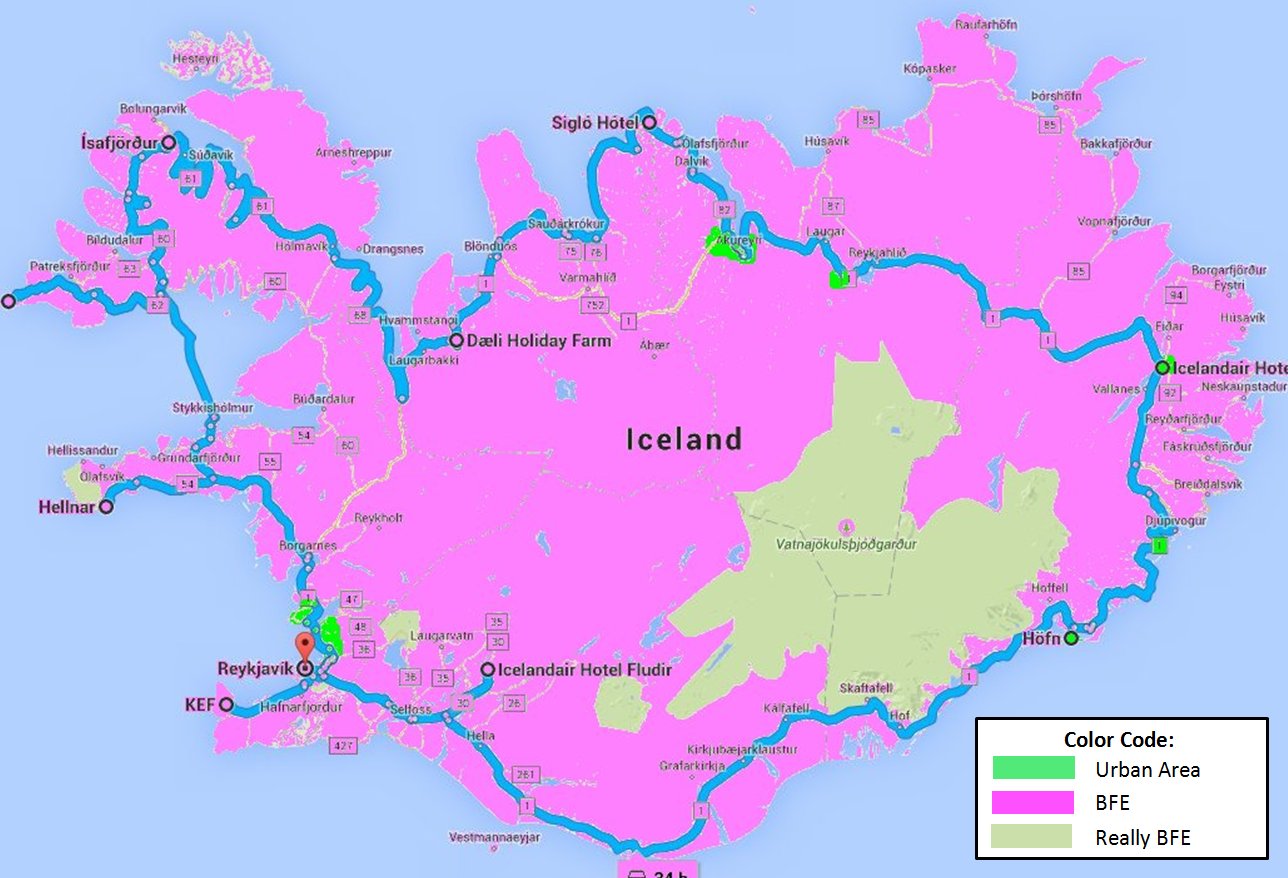 ---
Clothing:
Iceland is hard to pack for regarding clothing. During our trip, temperatures ranged from low 40's to 55F or 60F max. Down near the coast, at zero elevation, it is cold and windy, even in June. Possibly rainy. Don't bother with an umbrella. The wind will destroy it instantly. Bring a waterproof jacket, hat, gloves. Further inland and at higher elevations, it can be very sunny and warm (55-60F is warm when you're hiking). T-shirt weather for me (I'm a Pennsylvanian). Kelly (wussy Floridian) still needed a sweater. You will experience both conditions even in the same day just hours apart. Wear layers so you can add or shed clothing as necessary.
If you go for a long trip ranging from 10-14 days or more, It's hard to pack a full 2-weeks of clothing in one bag since you need both warm weather and cold weather gear. This necessitates doing laundry at least once during the trip. This can be a logistical problem if you're staying only one night in each hotel (laundry services at the hotels can't do it overnight and have it ready by am). Midway through our trip, we stayed at a small bed and breakfast where the owner let me do my own laundry with their machine. That's the sort of excellent hospitality you'll find from the Icelanders. If not for that, we would have been washing our clothes by hand in the bath tub. Just something to think about.
The terrain is very hilly, uneven, and rocky. The lava rocks everywhere are sharp and will easily cut you if you fall (I did numerous times). Hiking paths are uneven and you can easily twist an ankle in sneakers. I strongly recommend good, sturdy boots above the ankle. They should be broken in enough that you are comfortable in them 12-hours per day for your whole trip.
In summer, sunrise is 2am, sunset at midnight. It's still light in between. Nice for sightseeing late into the evening, but it's difficult to sleep at night. Kelly was smart and packed a sleep mask. I wish I had done that. I needed to sleep with a T-shirt over my face.
---
Dress code:
Most restaurants are very casual. Even the at the best ones, most locals are wearing jeans, hiking boots, and sweaters. Reykjavik may be a little more formal if you eat at a fancy restaurant. We still got by with jeans.
---
Money:
Icelandic currency is the Krona. Some places may take dollars or Euros, but this is not preferred. No need for currency exchange or cash. Everywhere (seriously, everywhere) takes credit cards. VISA (chipped card) is preferred. American Express not taken anywhere except major hotels in Reykjavik. Don't know about Mastercard.
No tipping in Iceland! WooHoo! Businesses pay their employees a decent wage, so there is no tipping at all, even in the best of restaurants.
When getting gas at the gas stations, the pumps require you to enter an amount when you use your credit card. There is no fill-up option. Kind of annoying. A nice local explained to me that you just put in a very high amount, much more than you need, and pump your gas. After finishing, you insert your card a second time, and it credits what you didn't use. Not the most effecient system in the world, but it works.
Prices for everything are listed in Kronas. Make a note of the current exchange rate before you go so you can do a mental conversion, or better yet, install a currency app on your phone. This is important because some things are ridiculously expensive over there at touristy places. (We paid $70 for a burger/fries/soda lunch because we got careless).
---
Cell phones and Internet:
Regarding phones, even in BFE Iceland you can get a cell signal most places along the ring road. Most restaurants, hotels, shops have free WiFi. Even more so than in the US. Go figure?
Great free app for your phone: 112 Iceland App For emergencies, it will show your location and let you call for emergency services with 1 button. It also uploads your location to a server for tracking in case you get lost.
---
Language:
When I travel to foreign countries, I make a point of learning a little bit of the native language. Most locals appreciate it if you can say, Hello, Goodbye, Thank you, etc. in their language. In Iceland, it was a bit different. Their language is so different and has some truly unpronounceable syllables for most Americans. It seemed like the Icelanders would prefer you not even bother trying if you can't get it right. Everyone speaks very good English anyway.
---
Food:
Lobster (langoustine) is a staple over there. It's served several ways. Any good restaurant will offer a lobster soup. Some are very good, some not so much. It's a little unusual, but we liked it. Be sure to try it at several places. Lamb is another staple over there. It's pretty good too. Icelandic yogart (skyr) is very good. It's always served at breakfast. Locals use it in cereal instead of milk. I like it better than US yogurt because it doesn't have as much sugar.
The Pakkhús in Höfn was the best meal we had on the island. In Reykjavik, if you like Thai food, Ban Thai was very good. Probably our second favorite meal. I've been to Thailand, and this restaurant was the most authentic I've ever had outside of Thailand. Most US Thai restaurants don't come close to the real thing. Ban Thai did. Kind of funny, but two of our top 5 meals were at visitor centers. The visitor center at the top of the hill at Gullfoss had a really good lamb stew. The other was the lobster tempura from the food truck at Vatnajökull National Park.
---
Hiking:
Plan to do a lot of hiking. Most of the best sites require it. You can stay within a few hundred yards of the parking lots at the water falls and other destinations, but you will miss a lot if you don't hike.
---