Bangkok and surrounding area, Thailand
---
The first 2 days in Bangkok were spent exploring the city and various temples. One popular site we heard so much about is the Emerald Buddha. We weren't allowed to photograph inside the temple, but it was rather anticlimatic. They had a very elaboratly adourned room set up with a huge pedestal, and on top was this little green guy not more than 18-inches tall. Turns out he's made of Jade and not Emeralds too.
Either way, the Thai people take their temples seriously and really cherish them. While visiting these temples, which I expected to be tourist traps, we saw more locals coming to pay their respects than there were tourists.
---
Wat Traimit - Temple of the golden buddha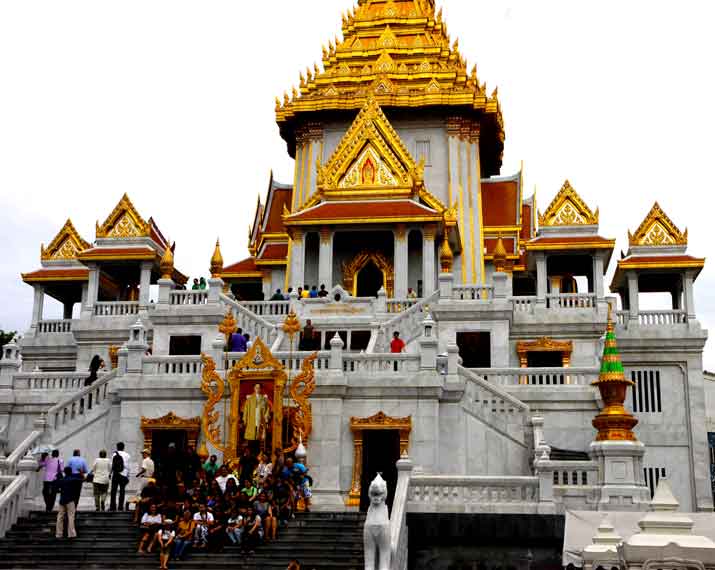 ---
Wat Traimit - Temple of the golden buddha
This is a replica of the 900 year old 5.5 ton solid gold buddha. The original is stored in a safe location not open to the public.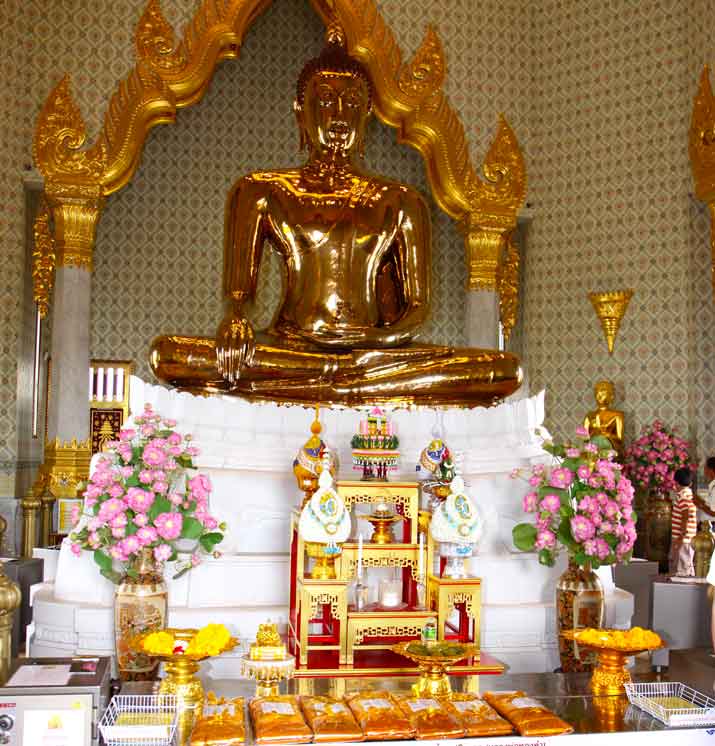 ---
Royal Grand Palace - Rubic's Cube Heads:
Our guide was even puzzled by this. There are dozens of art students from a local university drawing pictures inside the temple. They all wore these Rubic's Cube hats. Some kind of strange cult I suppose?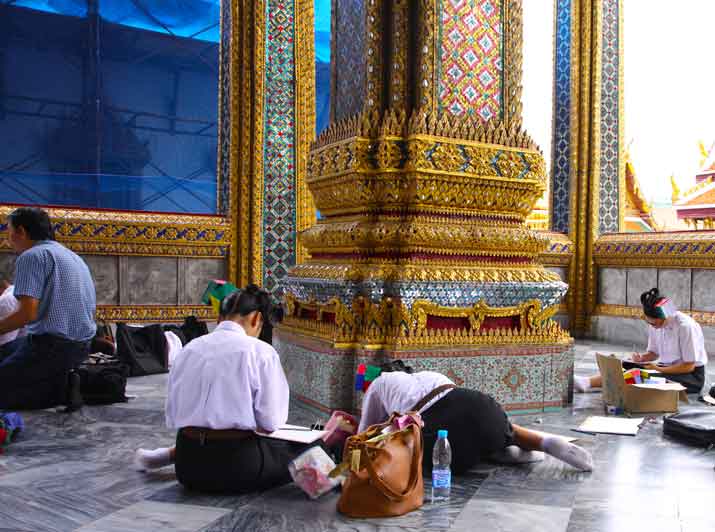 ---
Rubic Cube Head:
I tried to ask her what the hat was about, but she didn't speak English.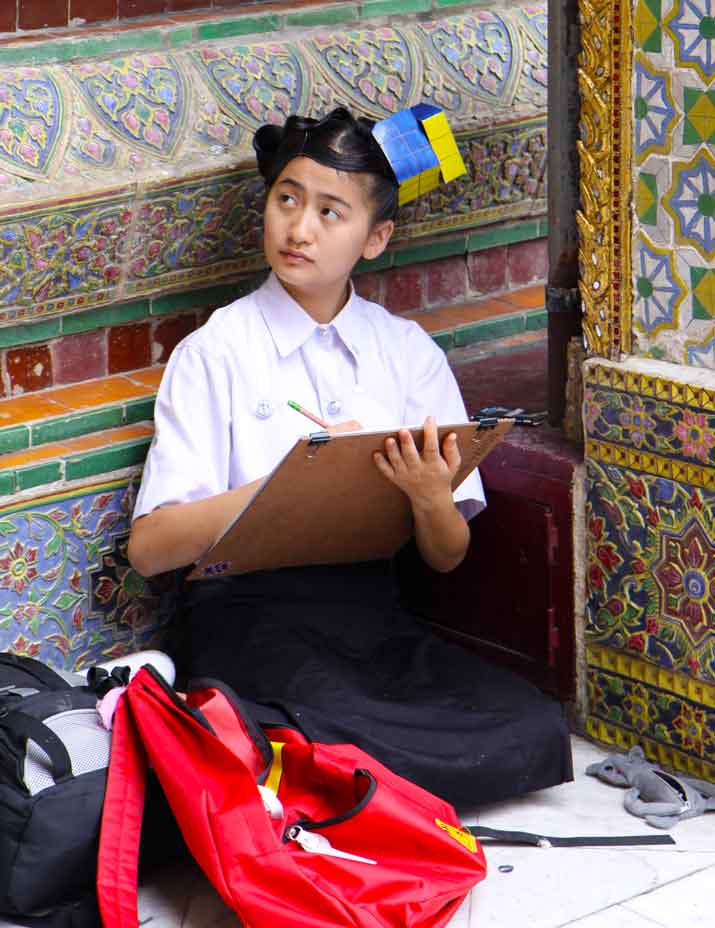 ---
Local talent
Well... Just because.....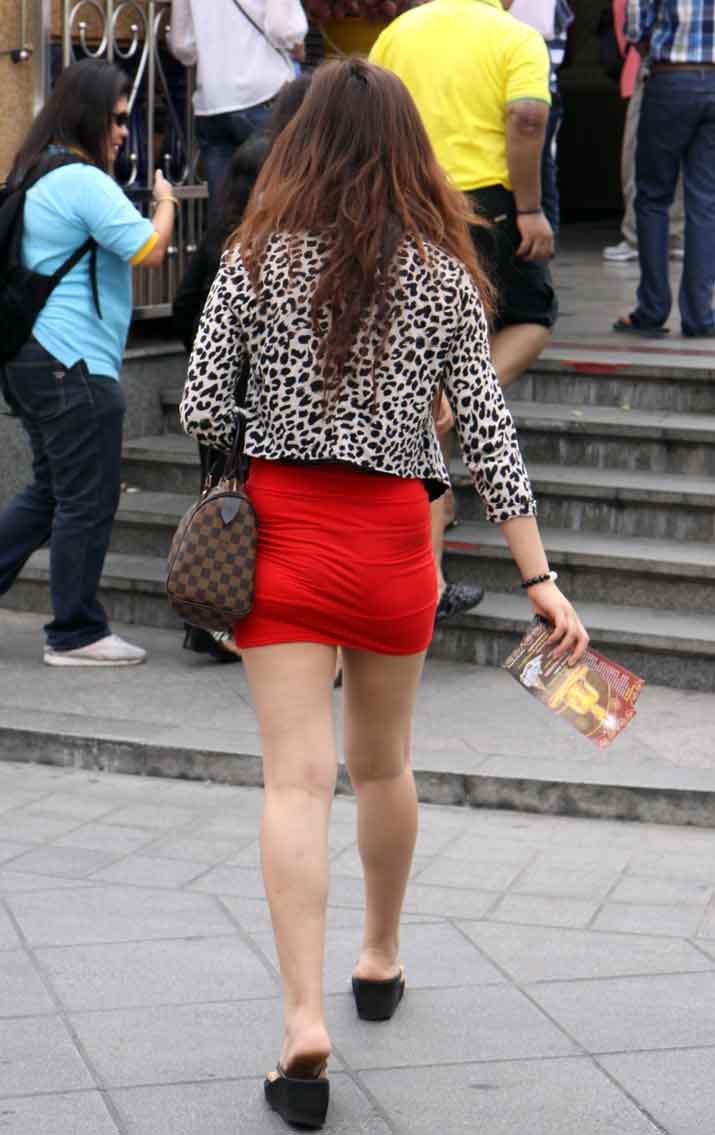 ---
Bridge over the River Kwai
This is the bridge depicted in the WW-II movie of the same name.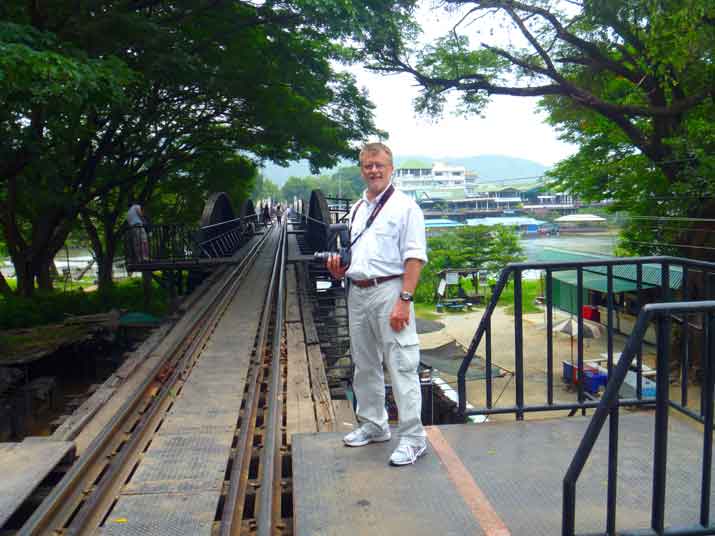 ---
Floating Market, Damnoen Saduak
This is one of several floating markets they have along the various rivers. You can buy clothing, jewelry, and just about any kind of food imaginable which is prepared right there on the boats.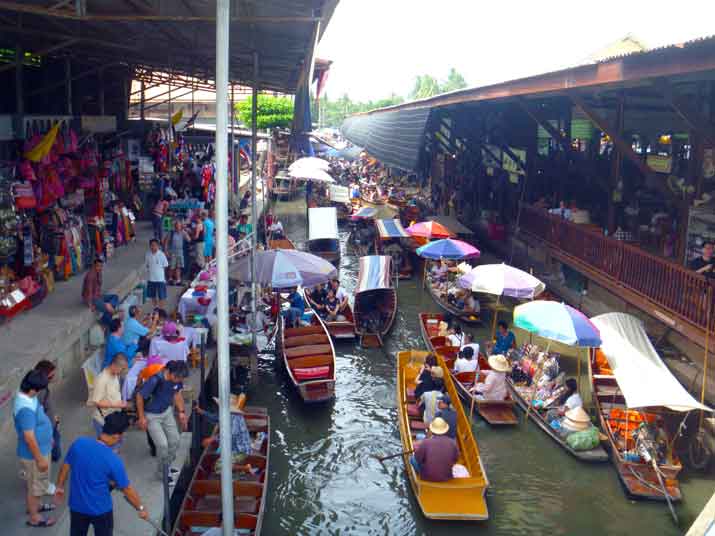 ---
Floating Market, Damnoen Saduak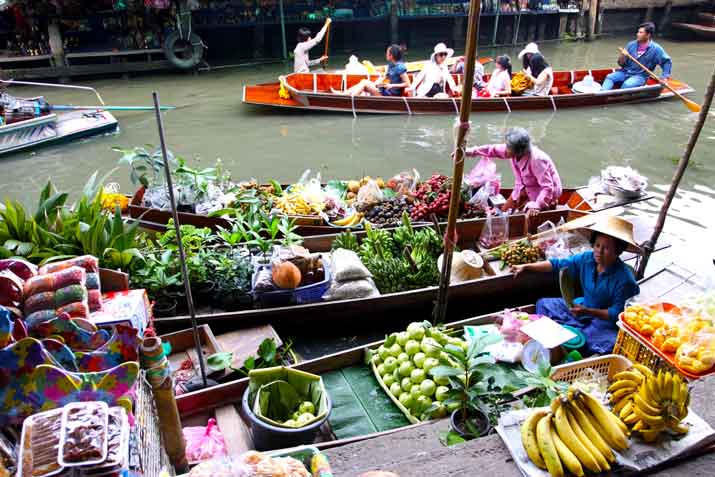 ---
Floating Market, Damnoen Saduak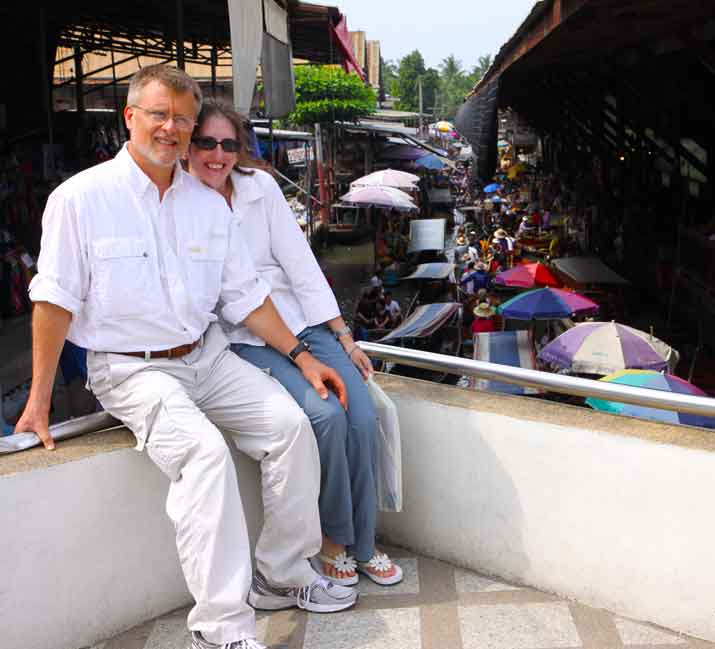 ---
Floating Market, Damnoen Saduak
The food here was awesome! We could have spent all day munching on the different things, all cooked while you wait.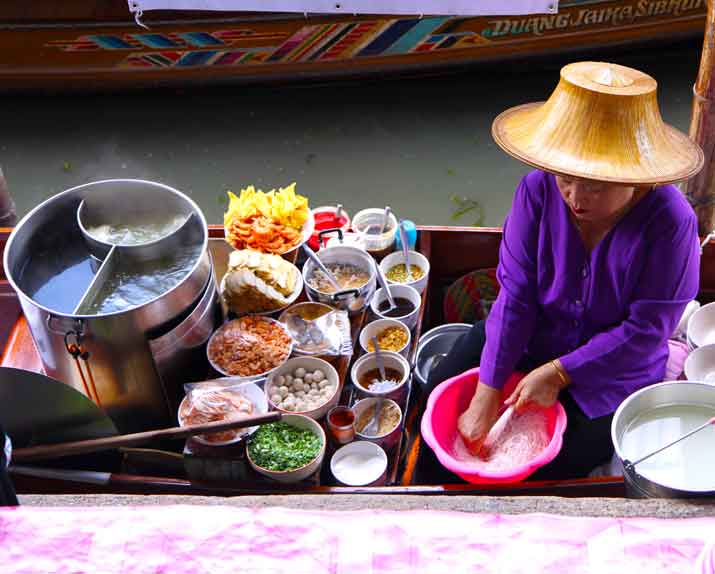 ---
Wat Po Temple
This is one of the largest and oldest temples in Bangkok. One thing that really struck me about this place is that there were far more locals coming here to pray and meditate than there were tourists. They really take their temples seriously. Another thing I noticed was that many of the statue heads were missing. So called archaeologists from the western world came here years ago and removed the heads for display in museums bach home. These national treasures were desecrated in the name of science. Think about that the next time you see some old relics in a in a museum. They were probably stolen from another country.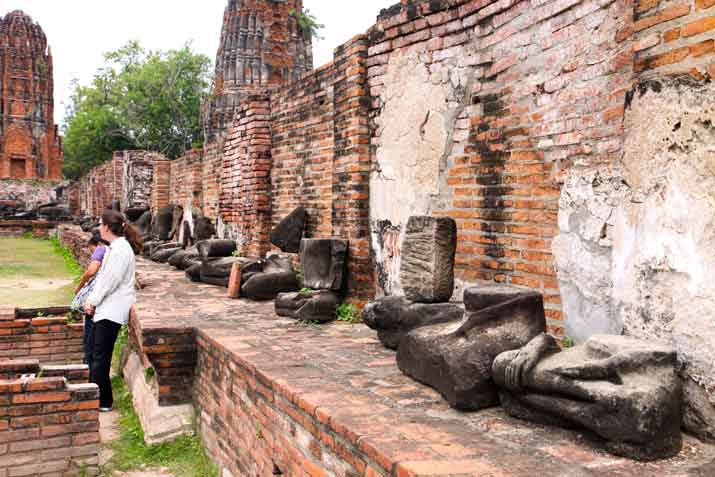 ---
Wat Phra Mahathat - Ayutthaya, Thailand
This is the famous Buddha head statue in a Banyan tree.
---
Kelly and Wassanna
Kelly and our guide in Bangkok goofing off. We really liked her. She was very proud of her country and you could tell she wanted us to enjoy ourselves very much. We got to know her pretty well after 5 days together. She's been tour guiding for 8 years and usually doesn't take American tourists because they are so angry and serious. I hope we changed her opinion of us, but I can see where it comes from.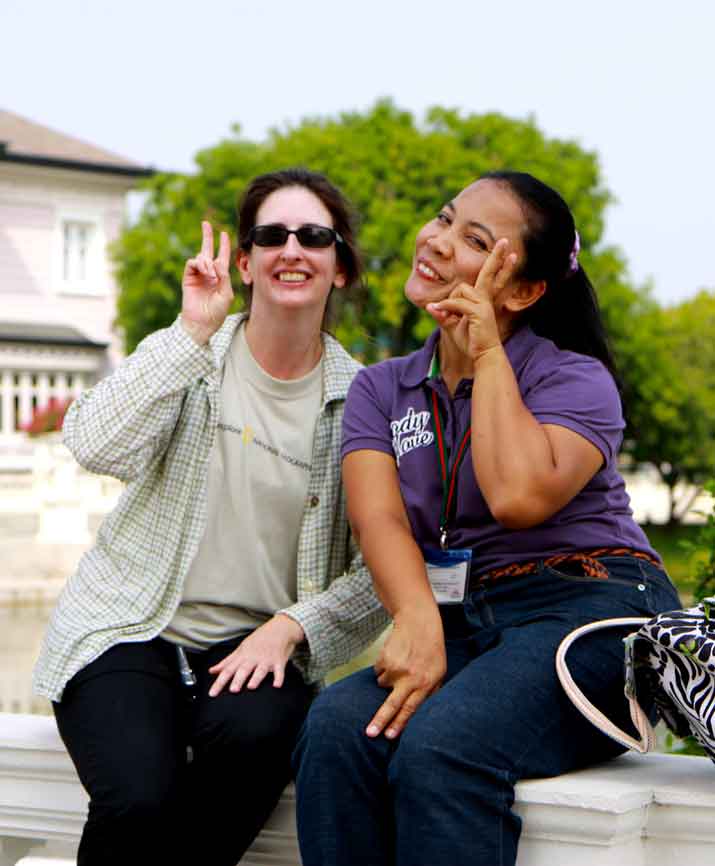 ---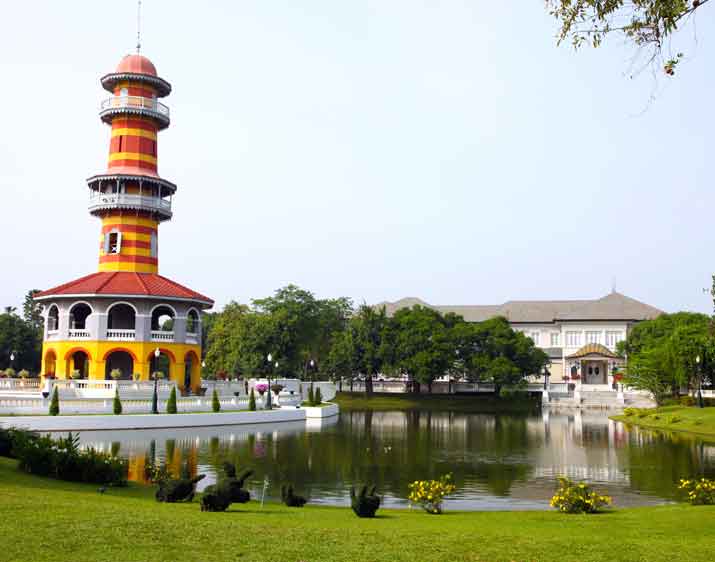 ---
Joe & Kelly
My feeble attempt at being artsy. Both photos were taken at the same time.
---