Chiang Mai, Thailand
---
Thai 101:
Thai language was pretty difficult. We learned a few basic phrases, and one of the most difficult to master is the Thai greeting. Saying hello is the easy part, but the greeting also consists of the Wai which has so many nuances to it that I'm sure we did it wrong most times. The locals still seemed to appreciate the effort even though you could see them laughing at times.
The Wai is a bow with the hands pressed together like in prayer. The nuances come about with the formality of the greeting. A younger person does the bow with the hands pressed together to a senior person. It would be inappropriate for an older person to do this for a younger person. In this case, you just say the greeting with maybe a slight bow of the head, but no hands in prayer. Also, there seemed to be some differences in hand placement. Hands lower near your chest is less formal than hands up close to your chin.
| | | |
| --- | --- | --- |
| Thai Phrase: | Pronounciation: | Translation: |
| Sawaddee ka | Sa-wa-dee ka | Hello, spoken by female |
| Sawaddee Khrab | Sa-wa-dee Khrab | Hello, spoken by male |
| Khob Khun Ka | cob coon ka | Thank-you, spoken by female |
| Khob Khun Khrab | cob coon khrab | Thank-you, spoken by male |
| mai ped | my ped | No spicy |
| ped | ped | Spicy |
| ped ped | ped ped | I want to burn off my taste buds and have the sensation of a hot lava enema in the morning. |
---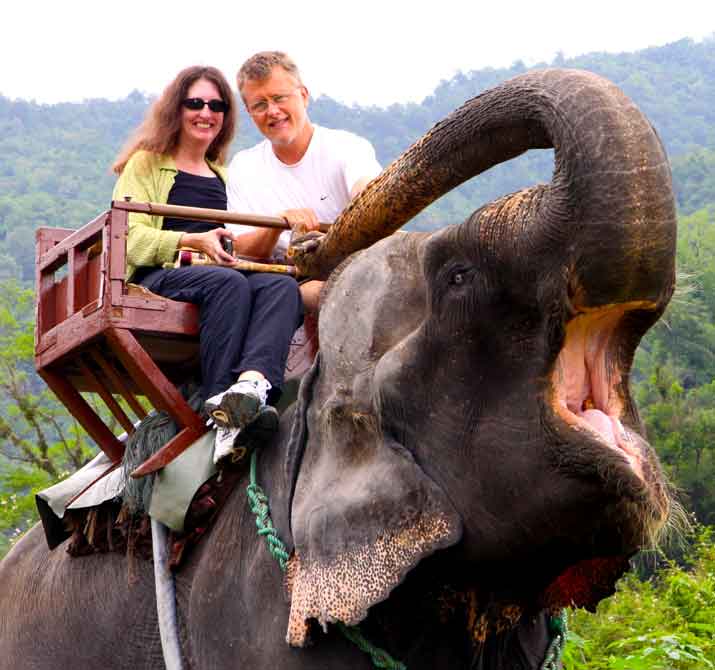 ---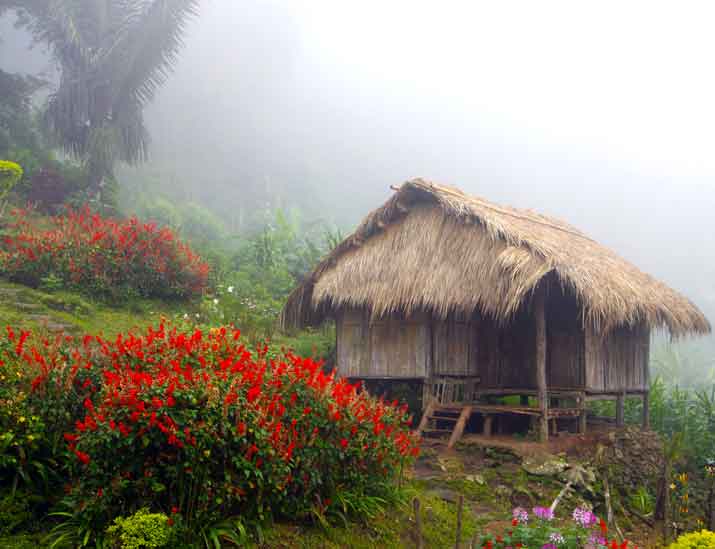 ---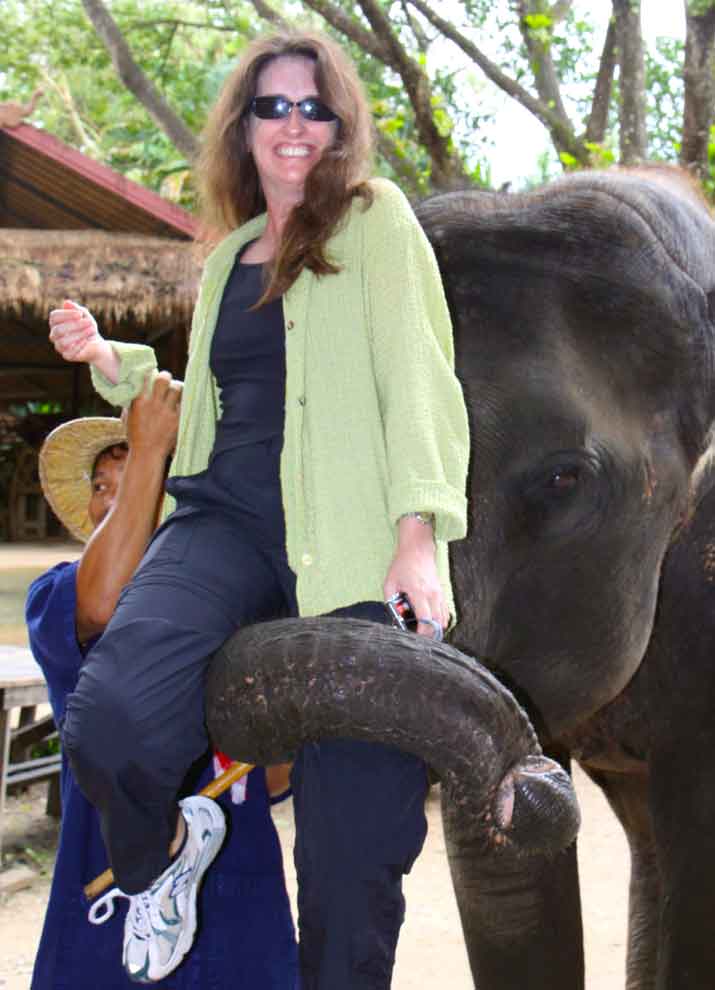 ---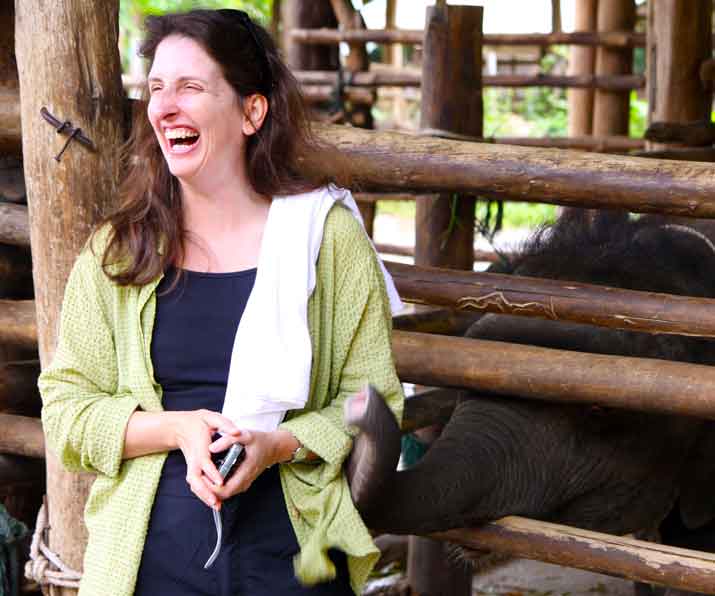 ---
Local Artist:
The elephant actually painted this picture. The keeper only dipped the brush in paint for him and handed it back to his trunk. They were selling the paintings afterwards, but they were kind of pricey.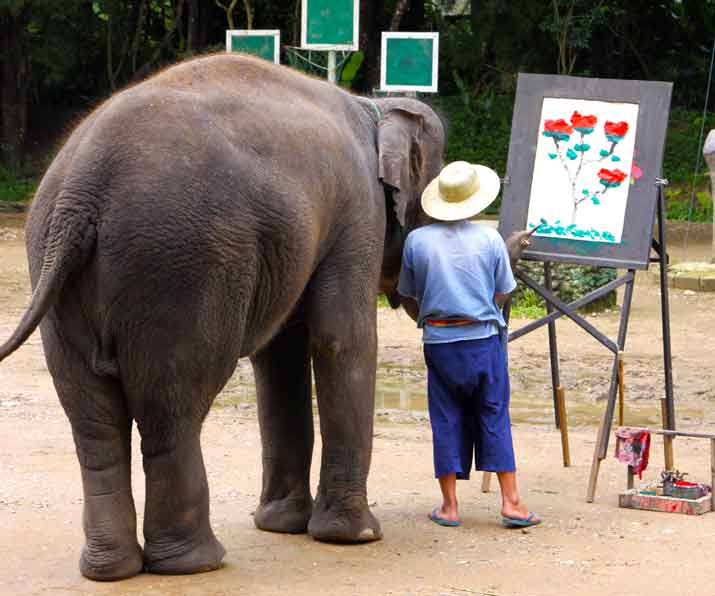 ---
Rafting trip:
I was kind of expecting a white water rafting trip in an inflatable, but this turned out to be kind of fun anyway.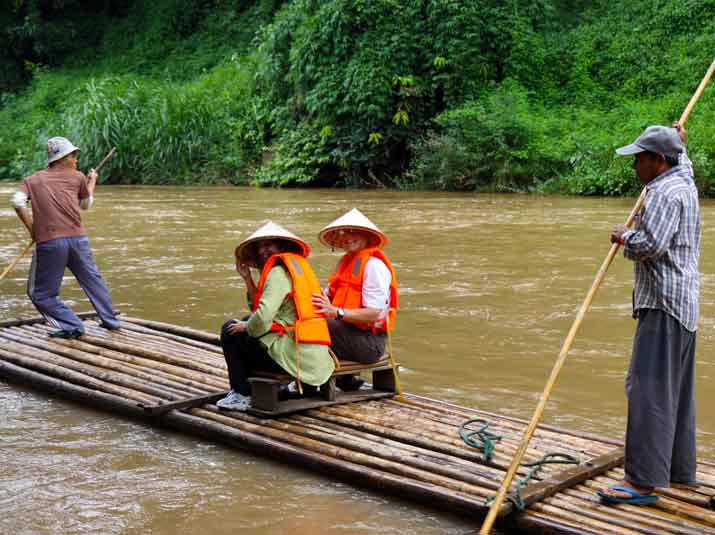 ---
Orchid Garden
Some hot chick I spotted at an Orchid garden.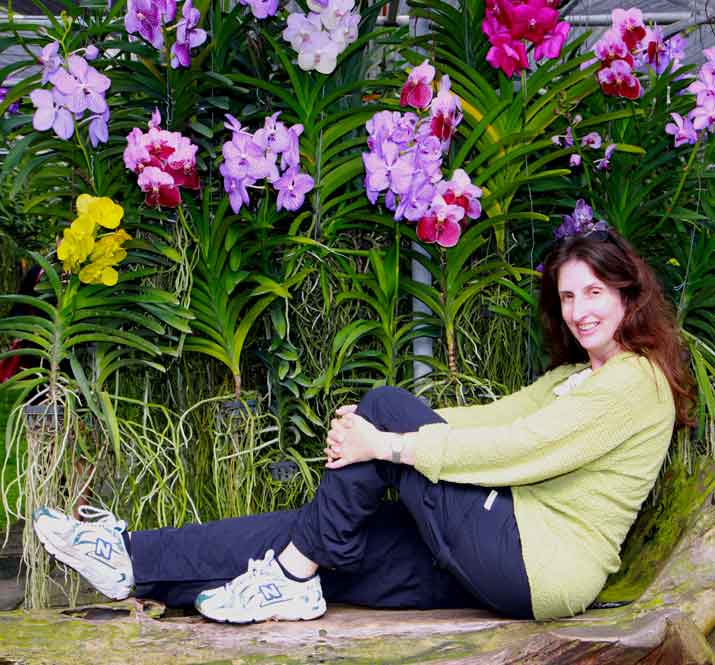 ---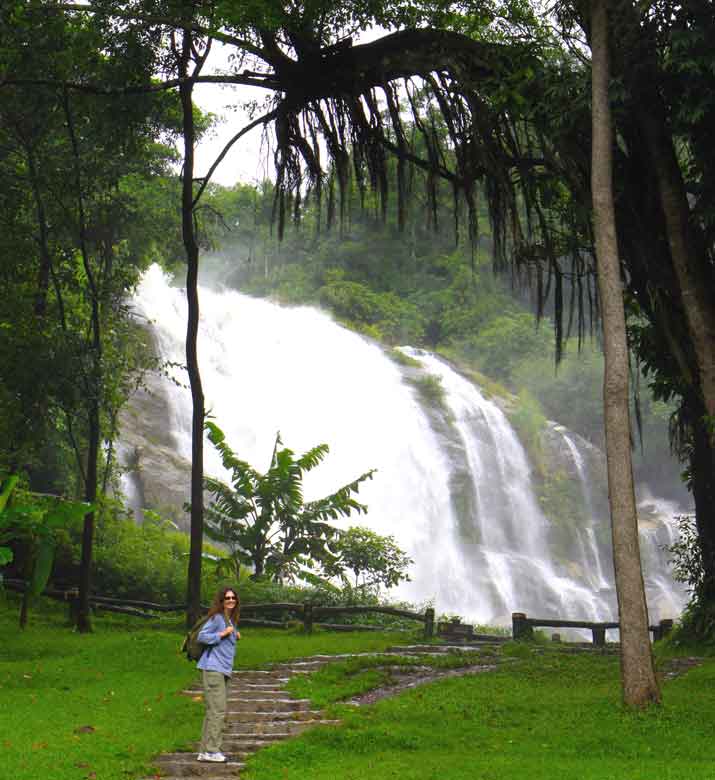 ---
Local woman who chews too much "tea".
The locals here suck on tea leaves which are not unlike chew tobacco.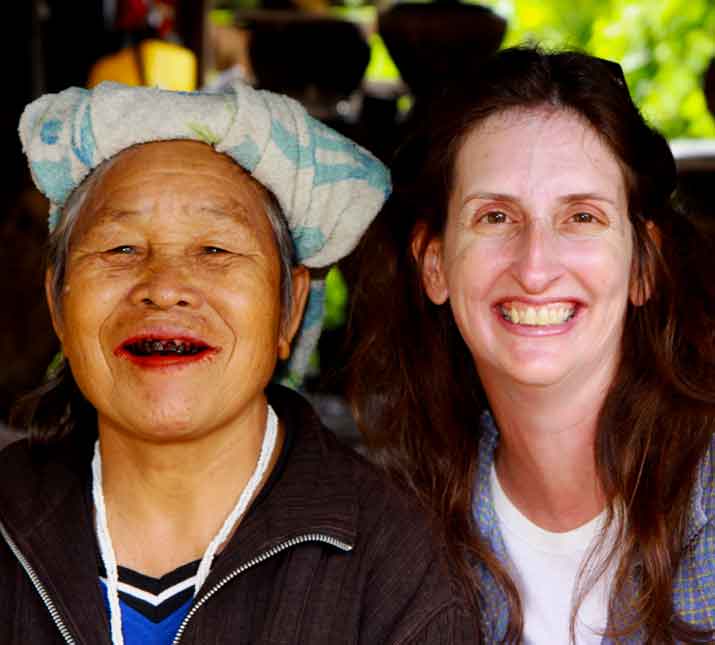 ---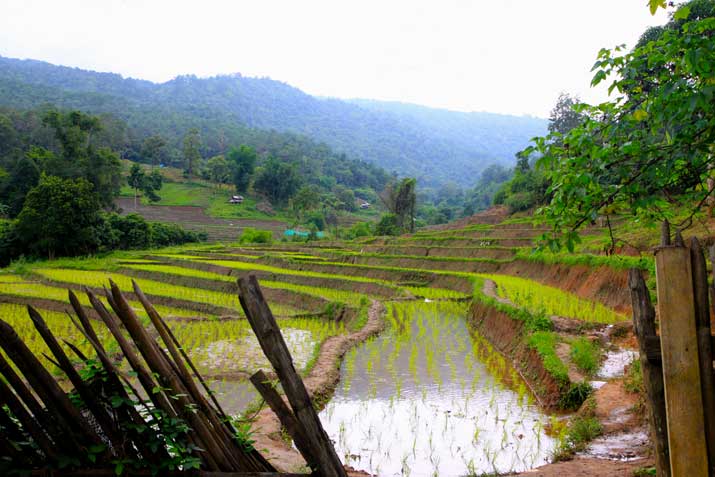 ---
Highest point in Thailand:
We did some hiking on the highest mountain in Thailand at nearly 7700 feet. This was a nice respite from the hot weather down below. It was cool and rainy and very similar to the lush cloud forests of Costa Rica.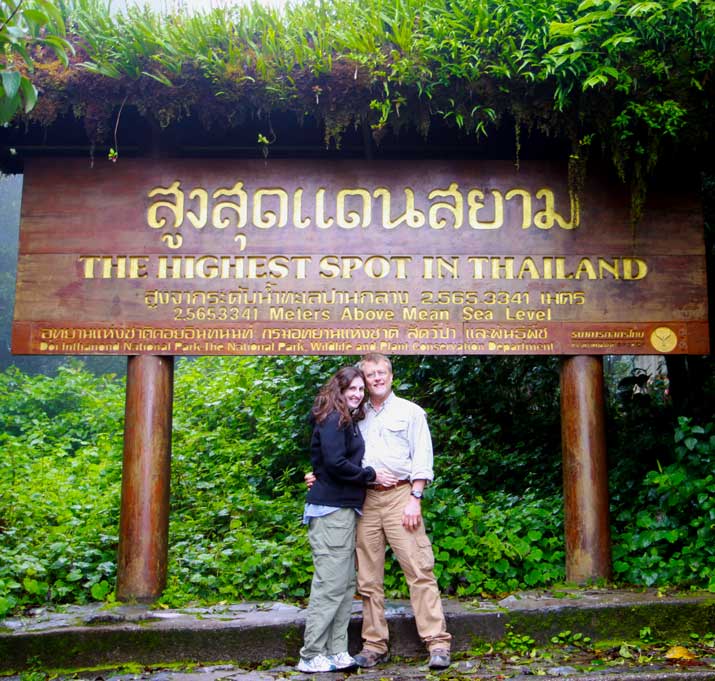 ---
---
Local Markets:
The northern region with its lush climate and soil grows the most amazing fruits and vegetables I've ever seen. There is so much variety here and many things I've never seen or heard about in the states.
We enjoyed the food here more than any other region in Asia. In fact, we learned that Thai food is very regional. In the south, they serve more seafood and everything is less spicy. I ordered very spicy in the south and it had no kick to it at all. I couldn't seem to get a decent meal in Bangkok or Phuket, but in Chiang Mai and Chiang Rai, the spicy level was a notch above anything I've ever had in the states.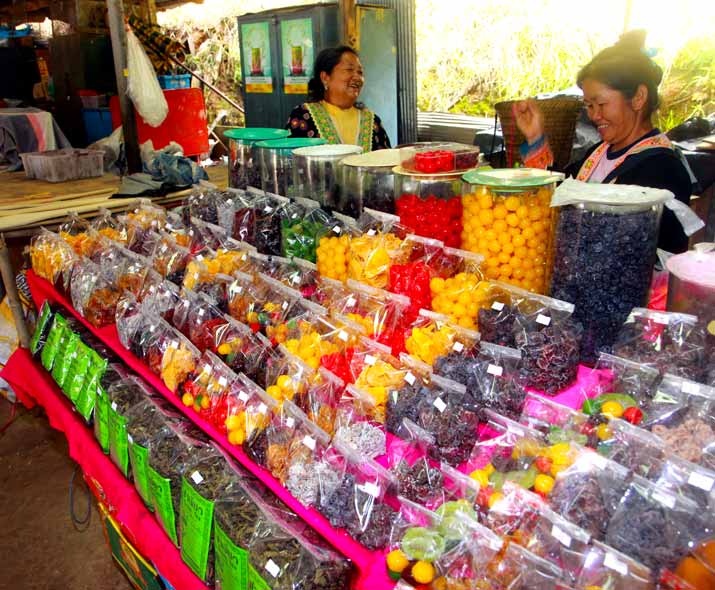 ---
White Temple - Wat Rong Khun
This is a modern Buddhist temple still under construction by a famous contemporary Thai artist named Chalermchai Kositpipat. It is painted white and covered with tiny pieces of white mirrored glass to give it its sparkle. We weren't allowed to take photos inside, but it was pretty unusual to see modern 21st century pop culture items in the paintings. You could see images of the World trade center towers of 911 burning, surrounded by a serpent that turns into a gasoline pump. Also seen were images from Hollywood including Star Trek space ships, Spiderman, Batman, Predator, and Alien characters.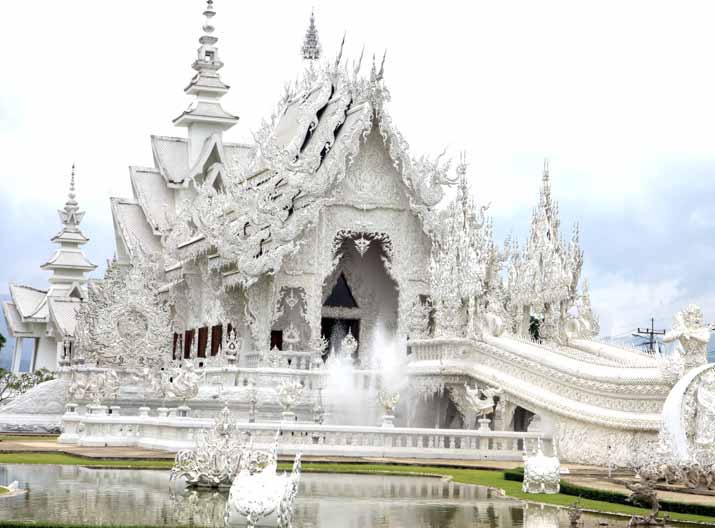 ---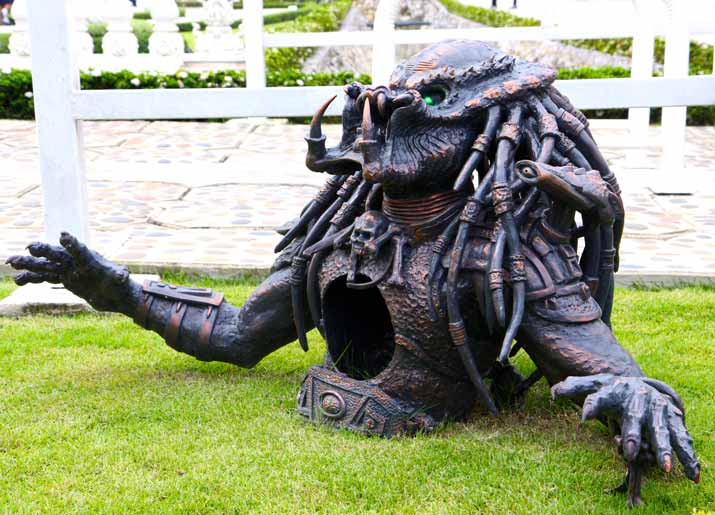 ---
White Temple - Wat Rong Khun
The entrance of the walkway features hands grabbing up from the depths, and shows the evil associated with greed and desire of the human world. As you cross the bridge, you are passing over to the Buddhist world through rebirth by casting away your wants and desires and other impurities the mind.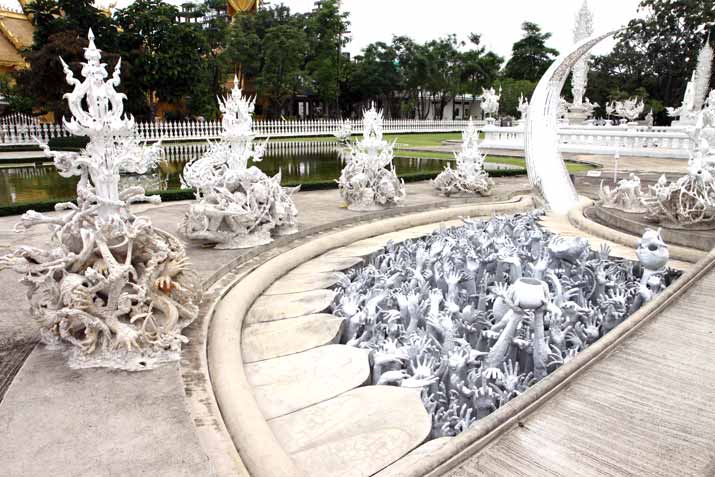 ---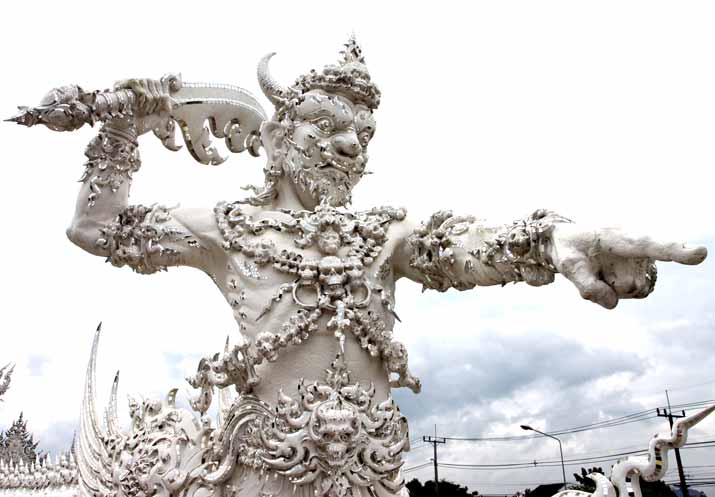 ---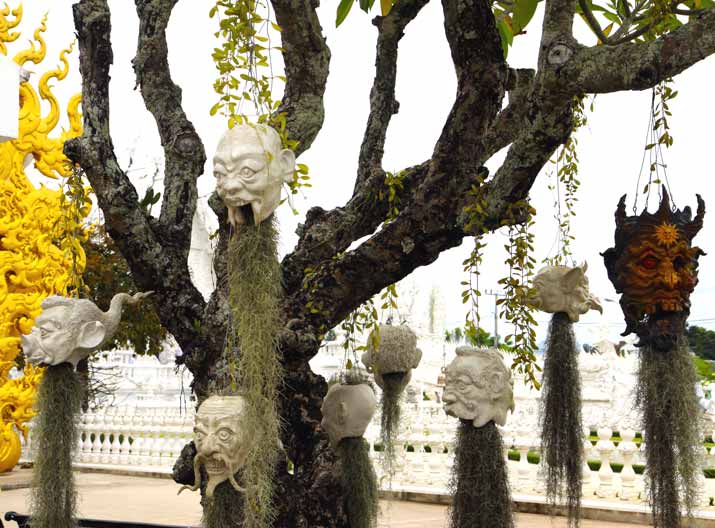 ---
Tuk-Tuk:
This is the best mode of transportation we found. These little tuk-tuks were around everywhere. A cross between a motorcycle and small car, they are dirt cheap. A 20-minute ride to whatever destination you want is about three dollars, including tip.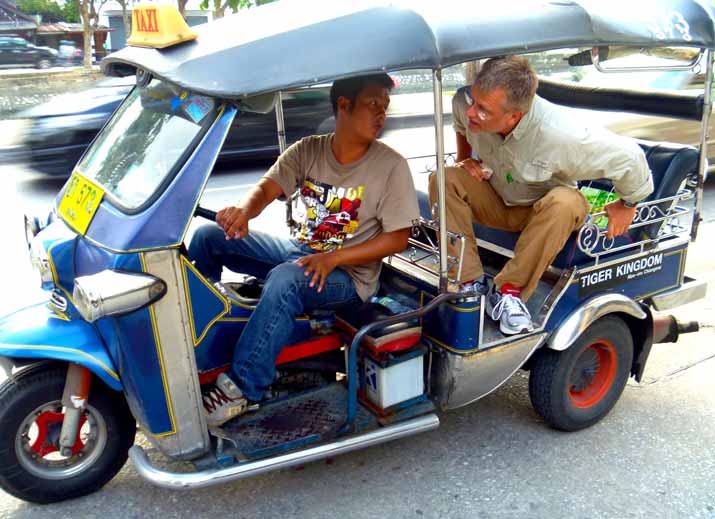 ---
Ped-Ped
As mentioned earlier, I couldn't get spicy food in the south. That certainly wasn't an issue in northern Thailand. A normal spicy dish (ped) up here is about a 5-star dish in the states. No problem for me. If you ask for really spicy (Ped-Ped), you end up with this. It certainly looks harmless, but the photo doesn't do it justice. One bite was so hot I nearly yarked - seriously. I could barely hold it together in this photo. I was really forcing this smile. I didn't eat another bite of this dish, and I could't taste anything else we had that meal. My mouth was still burning an hour later.
I always thought I could handle any spicy food out there, but the Chiang Mai natives really humbled me. I truly met my match, and conceded defeat!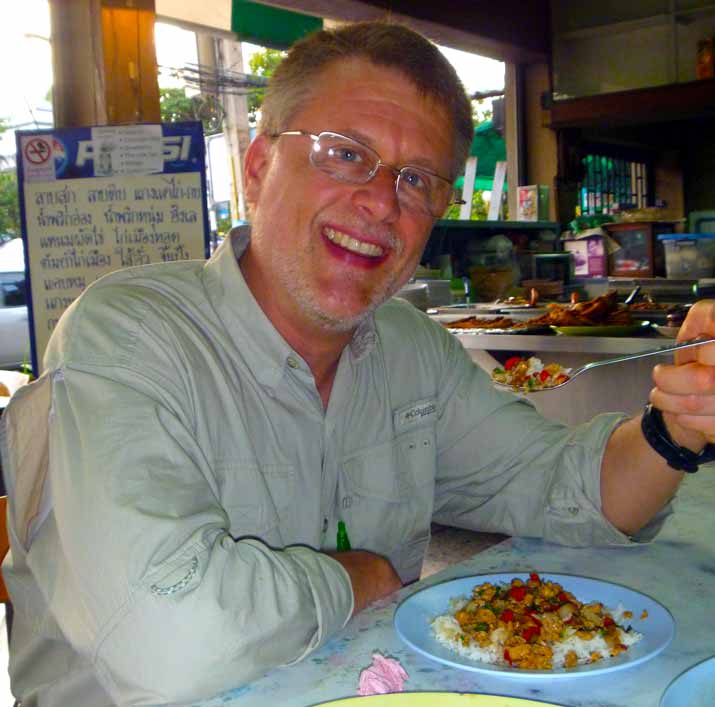 ---
Night Market in Chiang Mai
This is the local hot spot for night life. With all the great local food, I can't understand why they have Burger King, Pizza Hut, Starbucks, and other American fast foods. I think it's all for stupid tourists who are too afraid to try native food.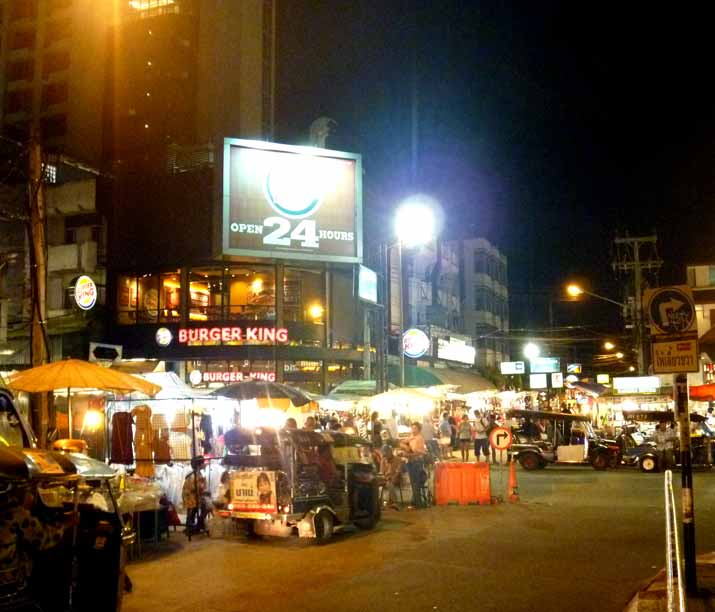 ---