Vietnam -- Saigon, Hanoi, Halong Bay
---
Vietnamese 101:
| | | |
| --- | --- | --- |
| Vietnamese Phrase: | Pronounciation: | Translation: |
| Xin chao | Zin-chow | Hello |
| Cam on | Come-on | Thank you |
| Khong co chi | Cong ko chee | Your Welcome |
---
First stop was Saigon, or as it's officially called now, Ho Chi Minh city. We toured the Cu Chi tunnels that the NVA used so effectively during the Vietnam war. They constructed elaborate tunnel networks that they lived in, transported supplies through, and fought from.
---
Cu Chi Tunnels
I've read about these tunnels, but was still amazed at how well camouflaged and elaborate they were. There is a tunnel opening hidden in the center of this photo.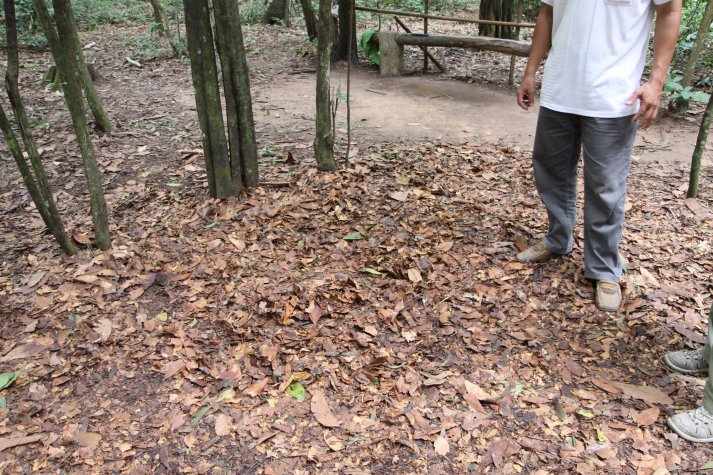 ---
Cu Chi Tunnels
Vietnamese dude demonstrating how they got in and out of the tunnels. The openings are so small, most people can't fit through them.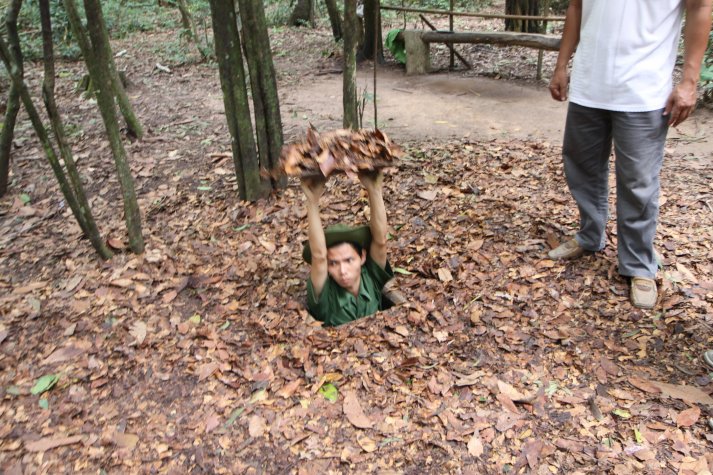 ---
Cu Chi Tunnels
Over-the-hill American dude seeing if he can fit his fat ass through the tunnel opening.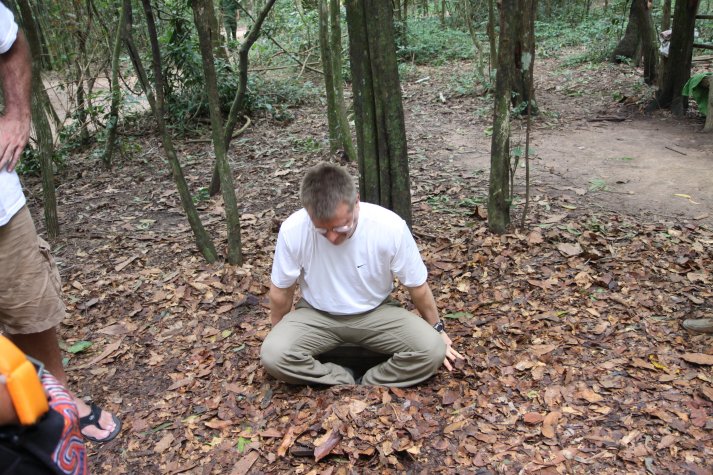 ---
Cu Chi Tunnels
OK. Fat part through. Now what about my upper body.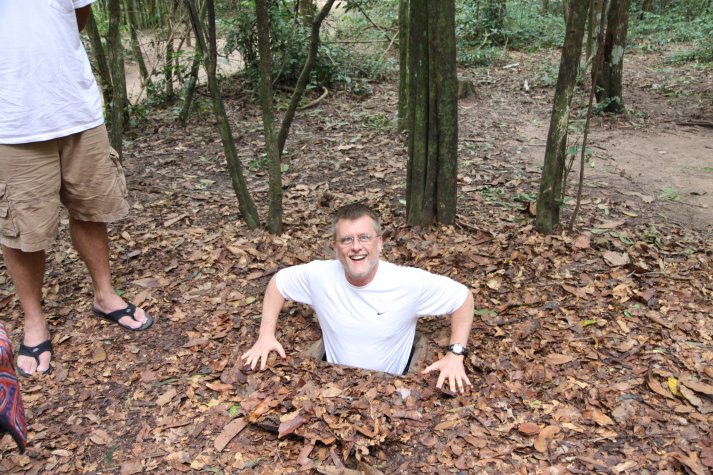 ---
Cu Chi Tunnels
YES!!!! They were impressed. Not many Americans are scrawney enough to fit. I really had to squeeze my shoulders through, and almost got stuck.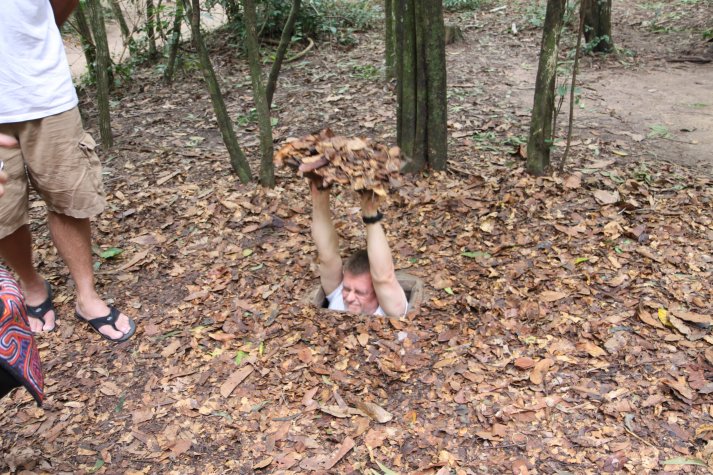 ---
Saigon
Kelly has been wanting one of these rice paddy hats since we went to China and she didn't get to buy one there. This trip, she made sure she bought the first one she found. It only cost about $1 US. Of course, she had to carry this thing around for 3 weeks every where we went. It's like pasting Silly tourist on your forehead the whole trip.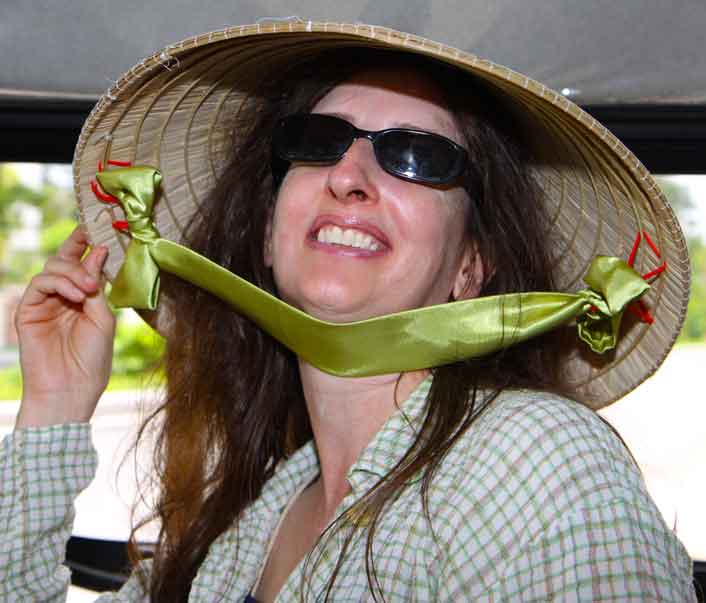 ---
Saigon
Enjoying the sites in the Mekong Delta province.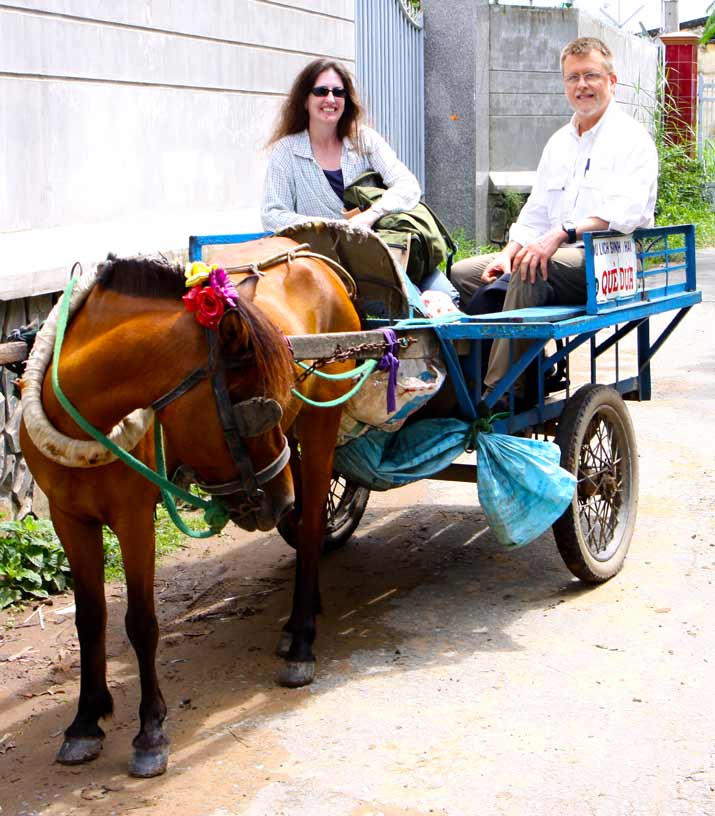 ---
Saigon Restaurant -- Pho
This was one of the best meals we had over there. One night we ventured a few blocks from our hotel until we got away from the tourist areas and into the native shops. We found a little hole-in-the-wall noodle bar and ordered the traditional Vietnamese dish, Pho. It's a noodle soup with beef or chicken. It was delicioius, and the two bowls plus two cokes totaled $5 USD.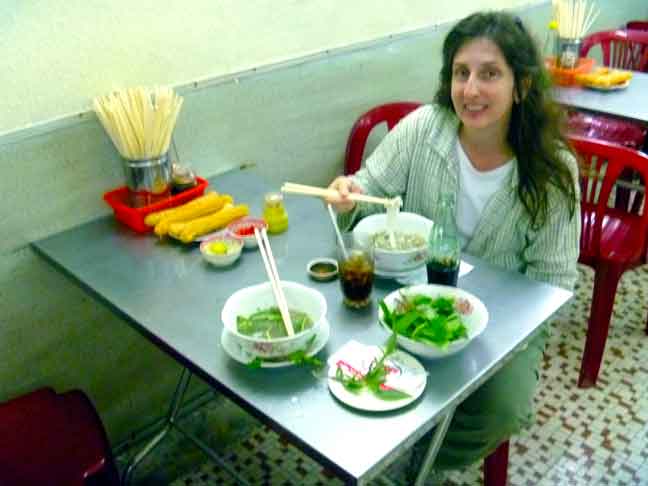 ---
Hanoi
Hanoi was very beautiful and modern. The people were very friendly also. This wall along one of the main roads had a ceramic mosaic mural that extended 3.85km. It's listed in the Guinness record book as the longest ceramic mosaic in the world. It took 5 years to complete.
---
Hanoi
Local street vendors.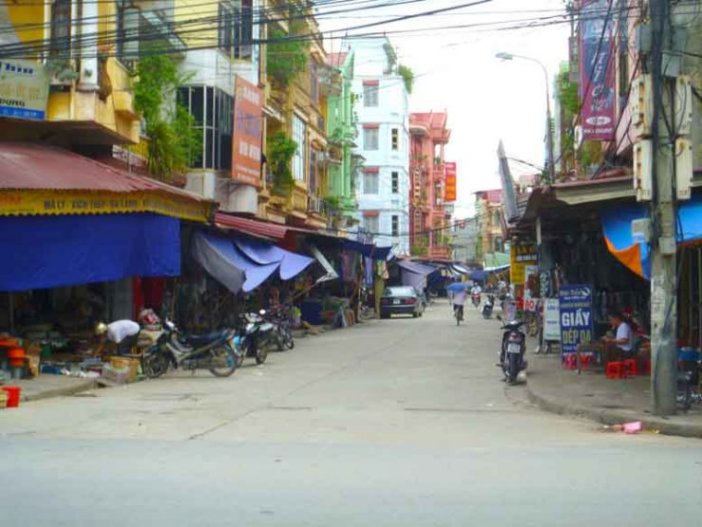 ---
John McCain Monument
The only down side of our tour was the Vietnam war history we had to endure at a lot of the sites. The victor gets to put their spin on things, and as you can expect it is not very favorable to the US. I was getting a little sick of that stuff, and this was a small example of it.
In the center of Hanoi is a lake with a beautiful park and amphitheater. We walked along a pathway and found this monument depicting a falling US pilot. Our guide said this is the site where John McCain was shot down.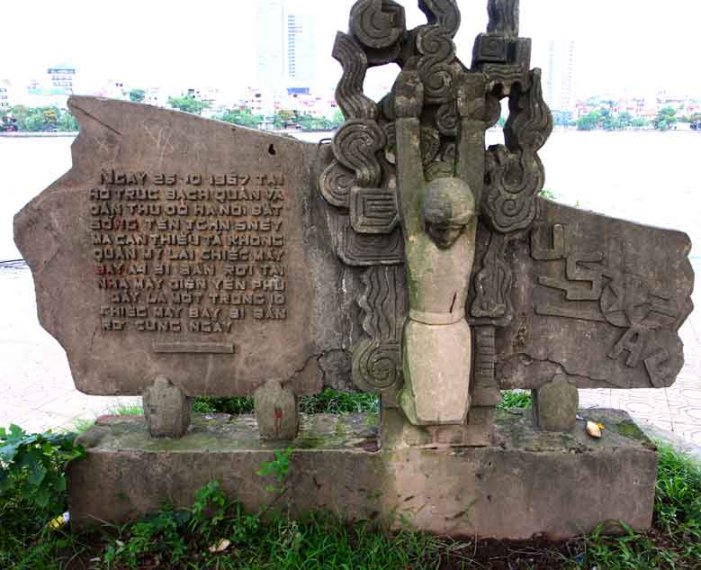 ---
Woman resting near village.
This was a small village we toured on the outskirts of Hanoi.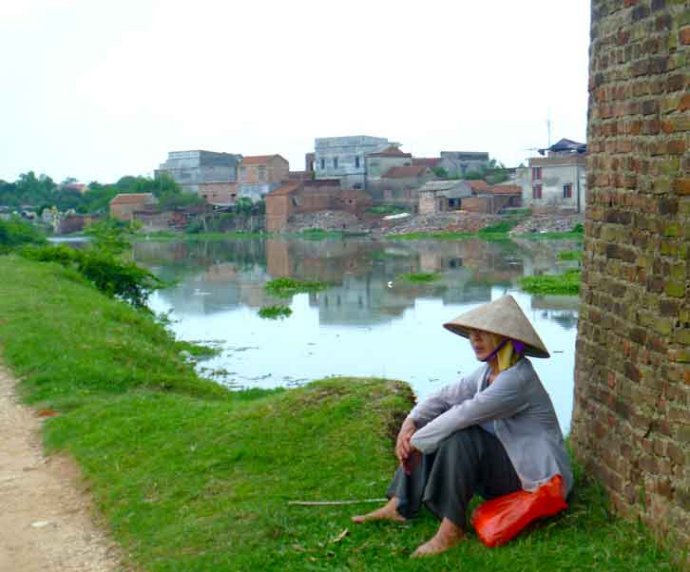 ---
Halong Bay:
Halong Bay is an area on the north east corner of Vietnam. This bay features nearly 2000 limestone rocks covering 600 square miles. We did a cruise in the bay along with some sea kayaking.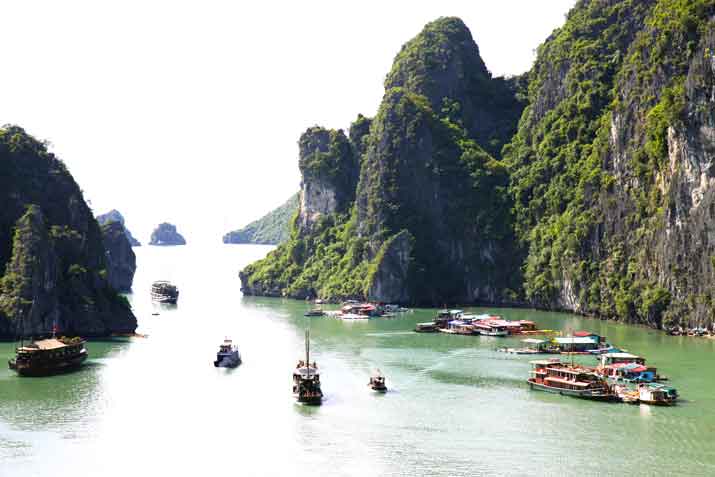 ---
Halong Bay:
I've been unsuccessful getting Kelly into a canoe or sea kayak for 20 years, but it was so beautiful and calm here, she finally agreed. I think she's ready to try it back home now.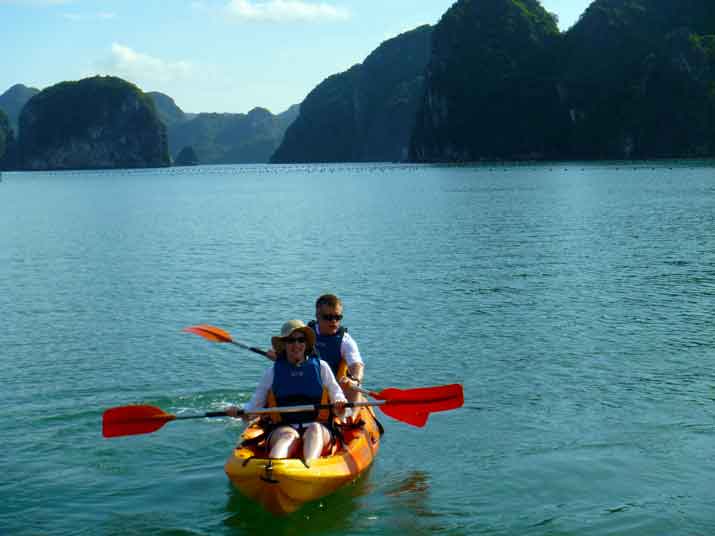 ---
Halong Bay: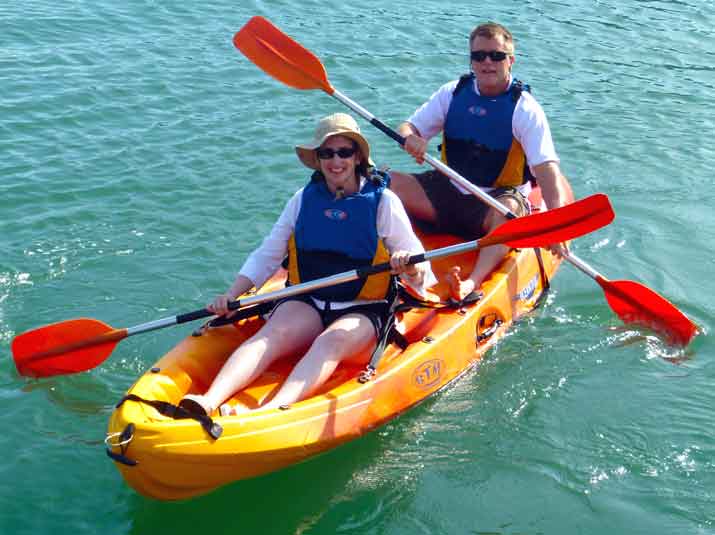 ---
Halong Bay: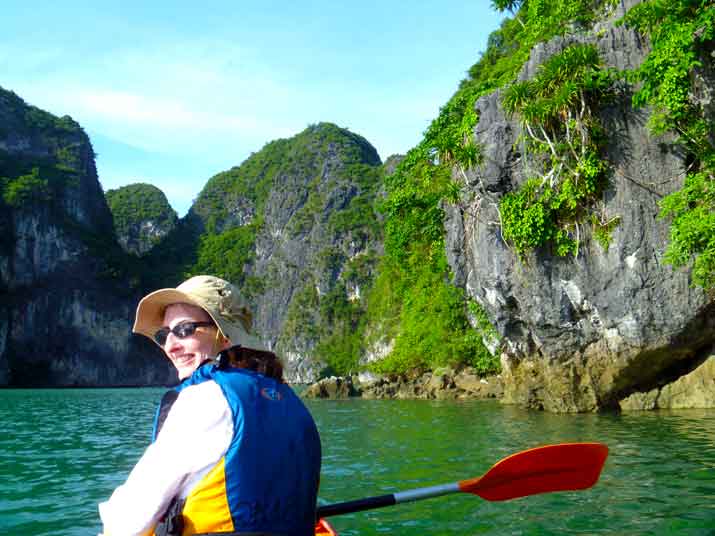 ---
Halong Bay: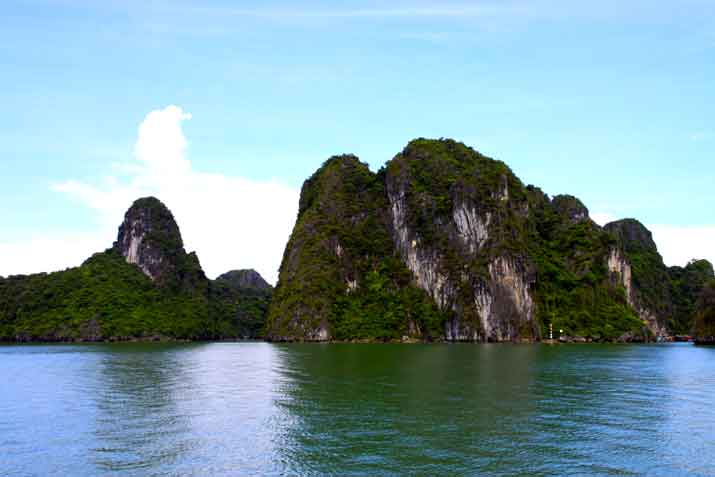 ---
Halong Bay: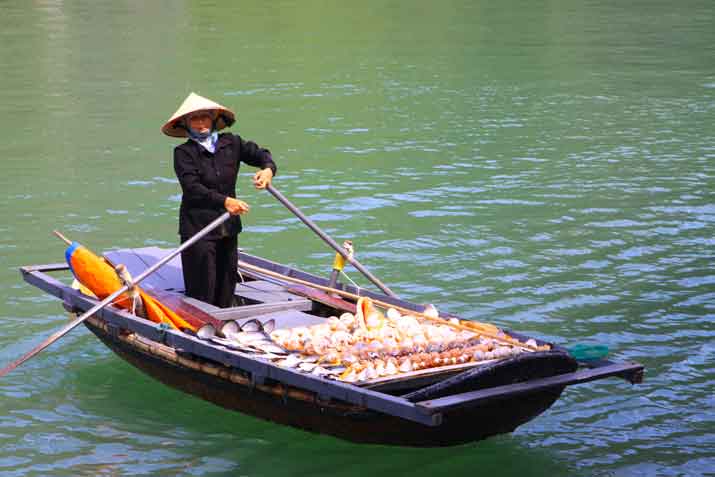 ---
Halong Bay:
This is a woman named Marion we met from Singapore. She has a Masters in education from Harvard, so she and Kelly hit it off very well. She considers herself a World Citizen since she travels so much.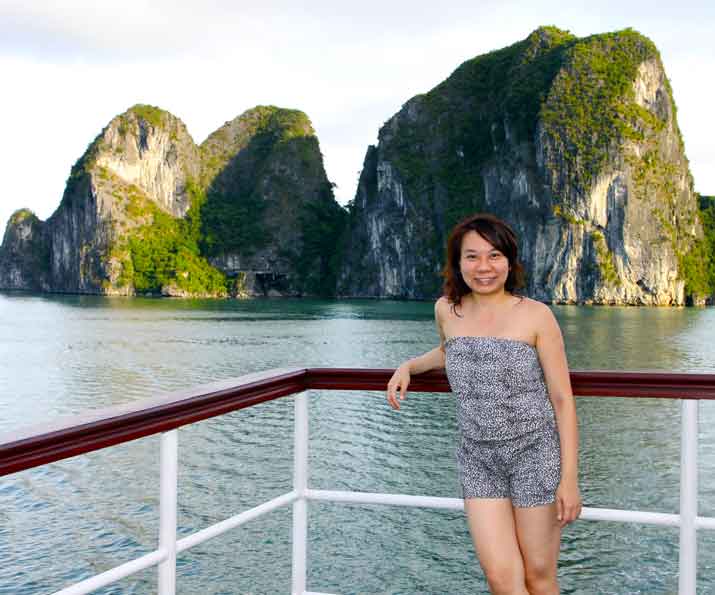 ---
Halong Bay:
---
Halong Bay:
One day on the cruise, I learned how to carve a swan out of a tomato.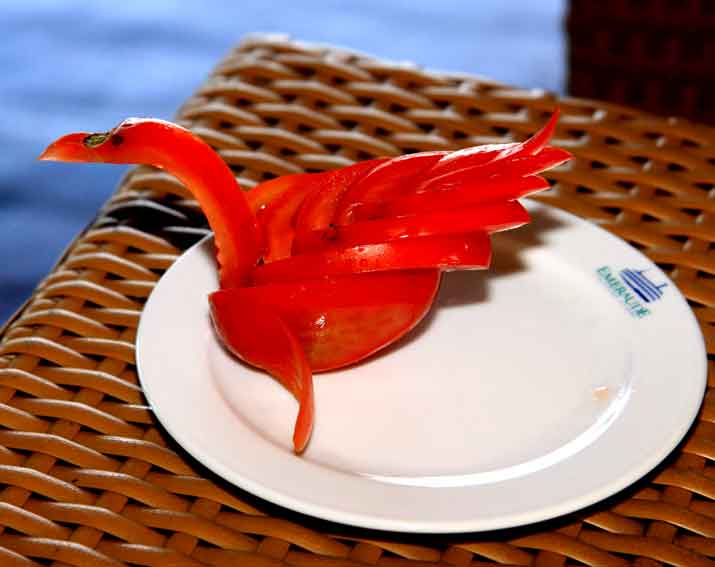 ---
Halong Bay: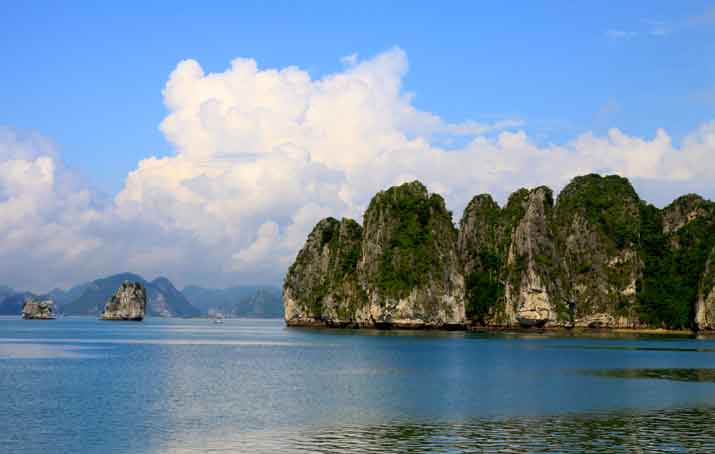 ---
Halong Bay: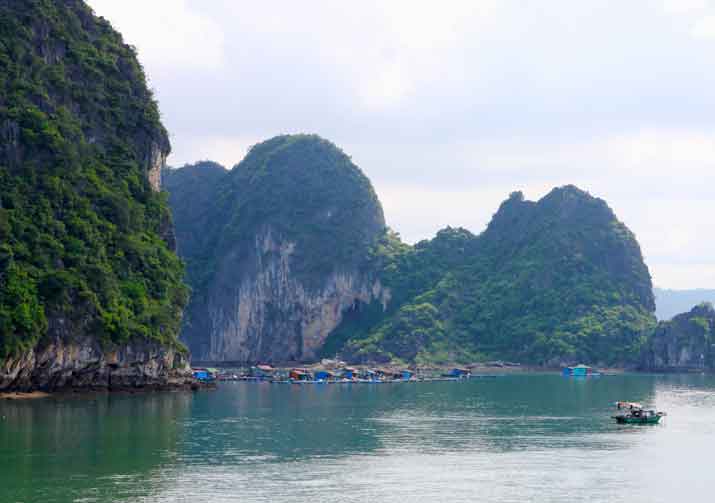 ---