Amboseli National Park, Kenya (June 10-11):
Tortilis Camp: This camp is near the Kenya/Tanzania boarder not far from Mt. Kilimanjaro. We had a spectacular view of the mountain from our camp. The area around this camp is mostly desert terrain, with a few isolated swampy areas which are formed by run-off water from the mountain. Animals congregate around these swamps for water and food.
---
Tents:
This is an example of the typical accommodations we had while on Safari. If you can imagine what a 4-star tent would be like, this is it. They all had concrete slab floors. The back wall is either wood or stone and has a bathroom complete with sinks, Western style toilet, and showers. They have hot/cold running water, with the hot water coming from solar powered heaters. Only the roof and sides are canvas tents. The forward area contains a standard bed, and most have a desk, sofa and chairs, night stands coffee table, etc. All had plenty of lights.
All camps had electricity powered from a big central generator, however power is only turned on from 6am-9am, and again from 6pm to 10pm. The camps all have a large central tent that served as a dining room. The food was very good and was usually a 4-course meal.
Dinner was late and usually finished up around 9pm. The management always insisted on providing an escort back to our tents after dinner. We thought this was a courtesy thing since it was dark out. We found out otherwise one night when we were awakened by lions roaring outside our tent. We instantly saw a bunch of search lights and heard a commotion from several guards who were on it right away. They drove the lions out very quickly and efficiently. We really appreciated the escorts after that.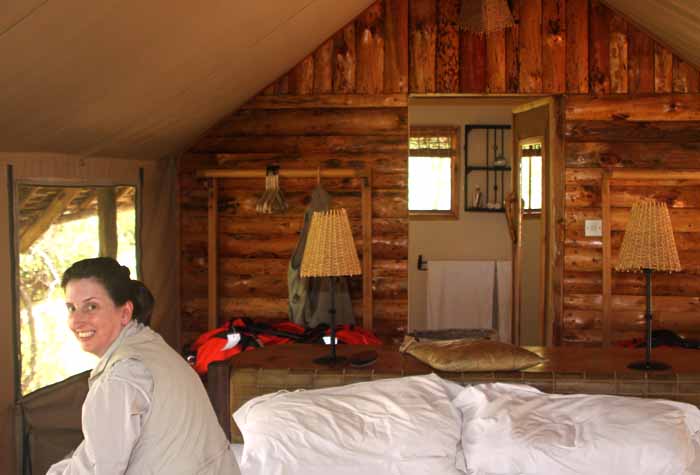 ---
Wildebeests:
These were two males fighting for dominance.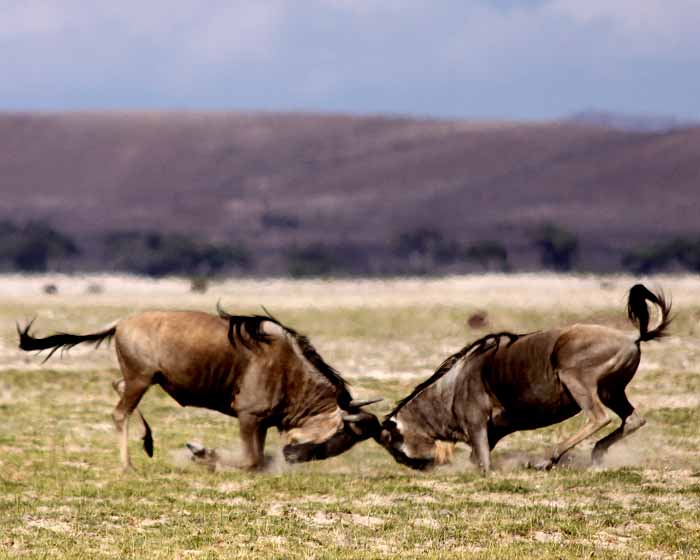 ---
I spotted this dust funnel on the way back to our camp one day. These are like mini tornados that form and burn out very quickly. We saw them many times.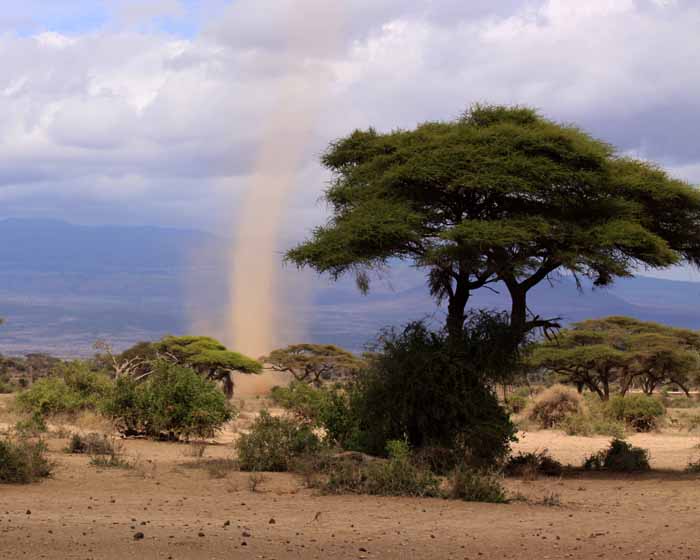 ---
Female Lion: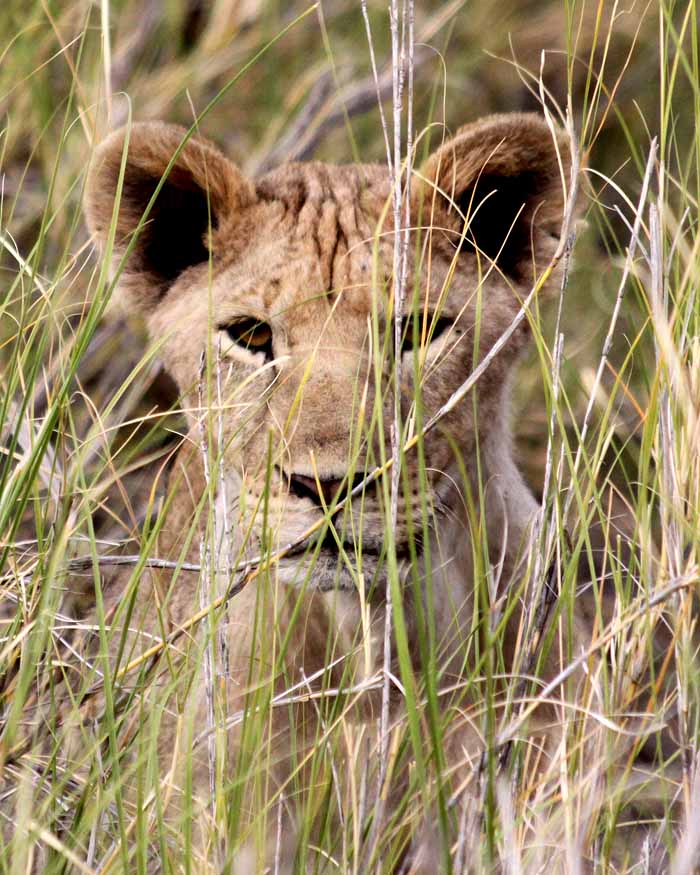 ---
Elephants walking towards Mt. Kilimanjaro: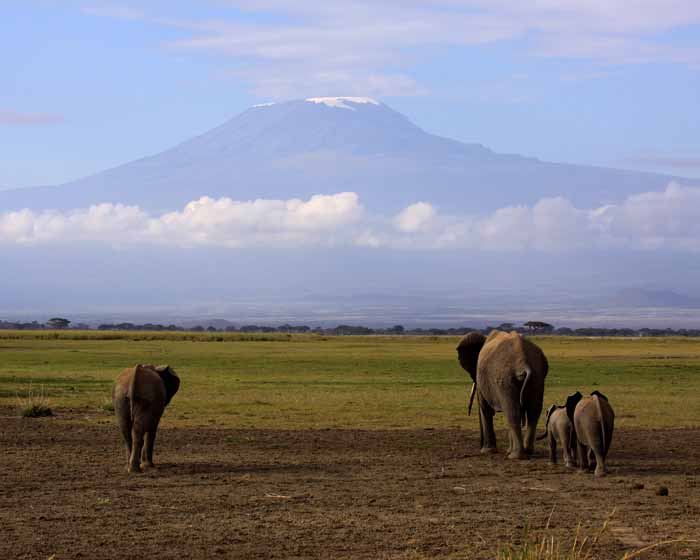 ---
Bush Breakfast:
The best game viewing is early morning and late afternoon. So as not to miss prime time viewing, our guide offered us a Bush Breakfast instead of the traditional sit-down at the lodge. This way we could do our early morning game drive and have breakfast around 9am. We expected to have something from a picnic basket on the side of the road.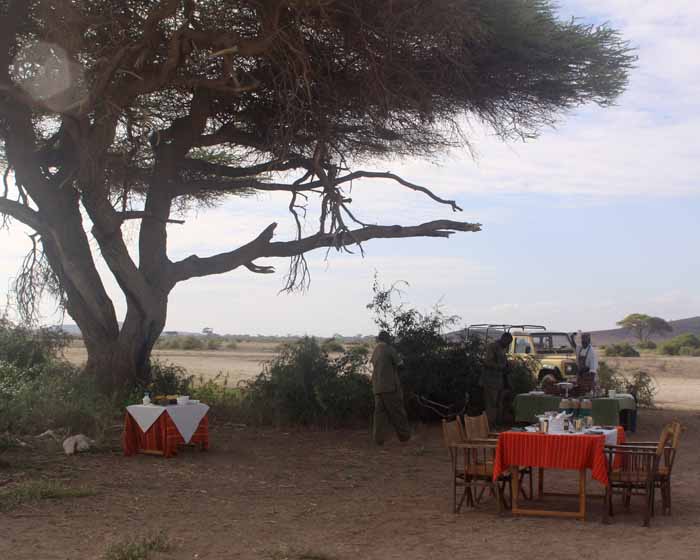 ---
Bush Breakfast:
We were pleasantly surprised when he drove up to a makeshift camp set up in the middle of nowhere with a full spread. They even had a chef preparing made-to-order omelettes.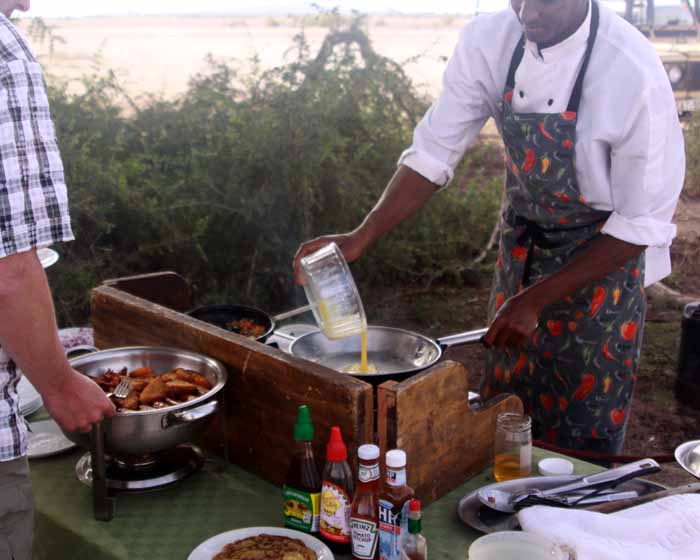 ---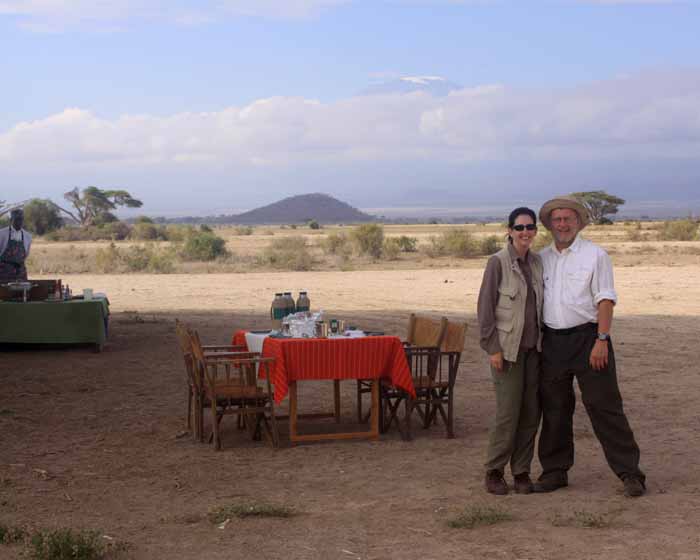 ---
Masai Villagers:
We visited a traditional Masai village and were greeted by the locals who performed a dance, and showed us their camp and explained their way of life.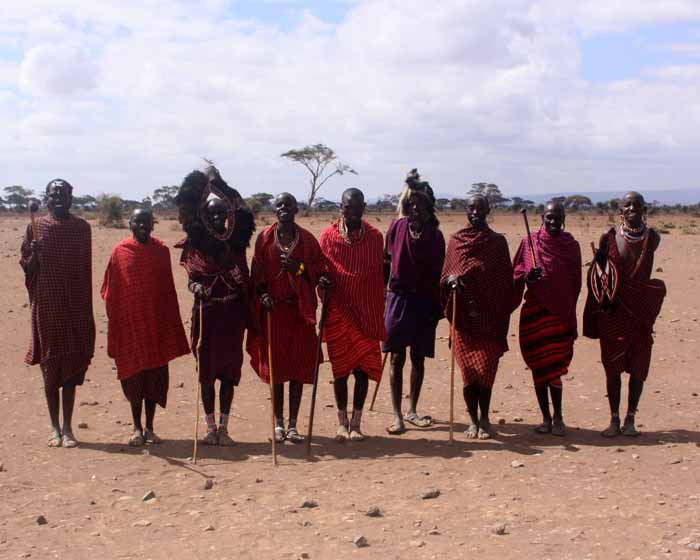 ---
Masai Pooh Huts:
The Masai men tend cattle since they are no longer allowed to hunt in the National Park where they live. The women make the huts they live in. The huts are made of a wooden stick framework woven in a tight pattern. It is then covered with Cow or Wildebeest pooh to make it waterproof. The Masai men sometimes have 3 wives or more.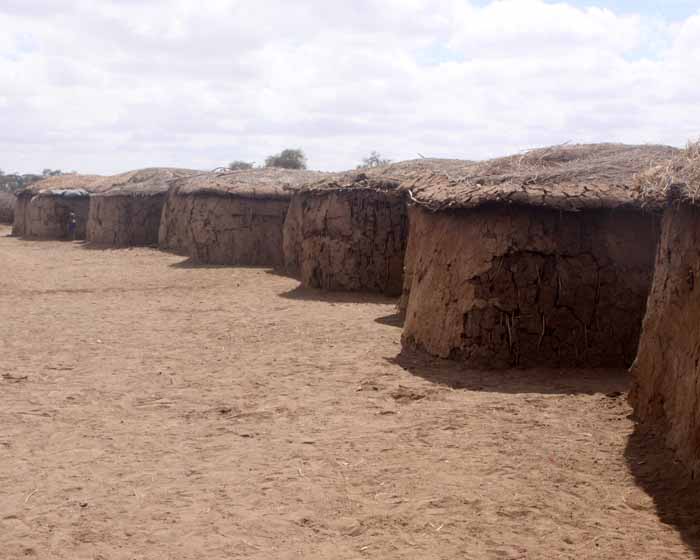 ---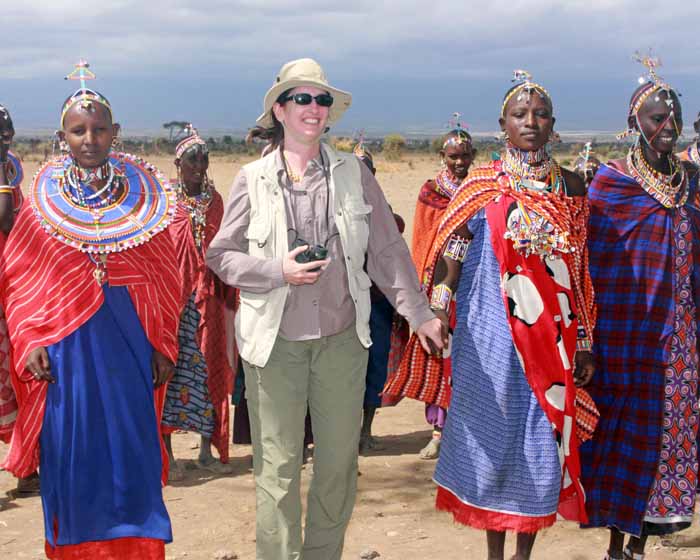 ---
Masai Jewelry:
The women make jewelry and other souvenirs from locally found wood or bone, and beads they buy elsewhere. The money is used to buy beans, rice, and modern medicine, which has only recently improved their life expectancy which was 45 years before year 2000.
---
Baby Chick:
We saw this guy crossing the road in the middle of the desert. It was all alone, and we never figured out what kind of bird it was.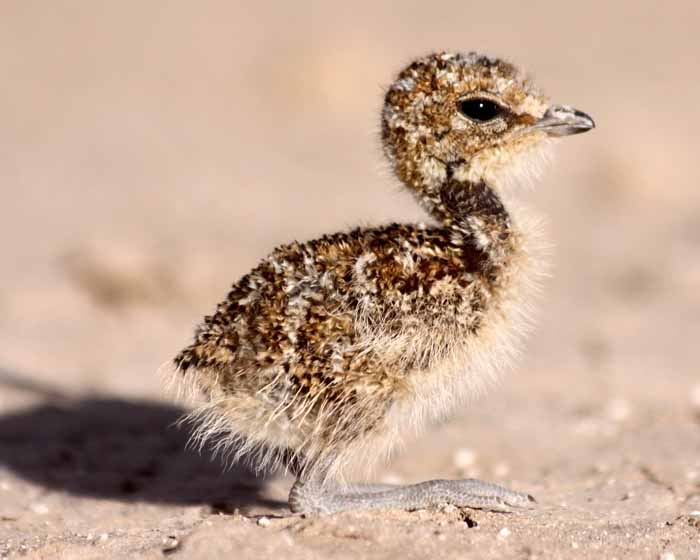 ---
Hyena:
We saw lots of these animals. They are mostly scavengers and don't hunt much on their own.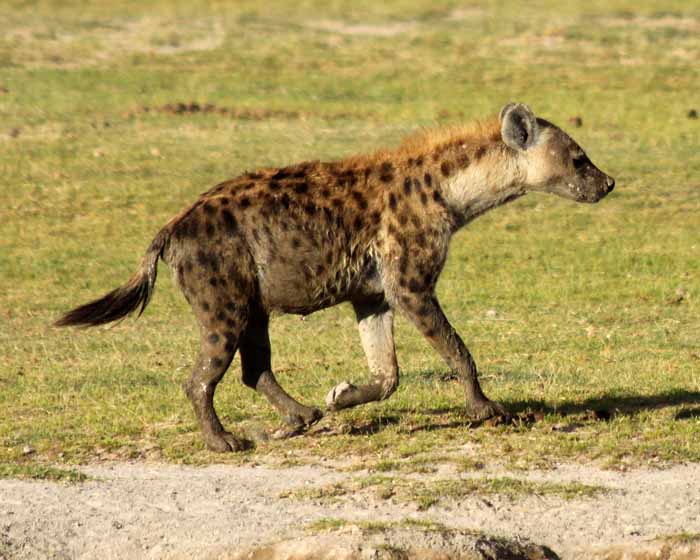 ---
Amboseli Landscape:
This dust funnel formed at the perfect time and location for a great landscape shot. I was also lucky to have a fairly clear view of Kilimanjaro which is usually shrouded in clouds.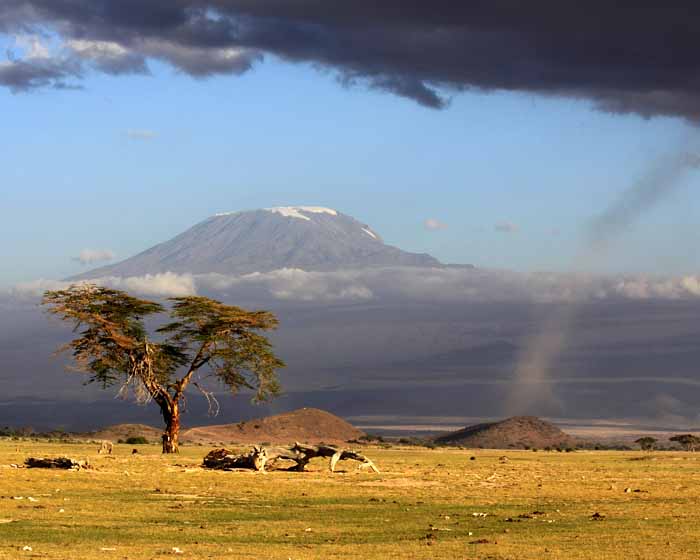 ---
Sundowner:
Like the bush breakfast, our guide offered us a sunset view at the end of the day. To our surprise, he drove up to the top of a hill where another camp worker had a full minibar set up for us to select drinks from and watch the sunset. It was the perfect ending to a great day.
Funny coincidence is that the guy we met in the photo below with the hat on actually lives in Palm Beach Gardens. Small world.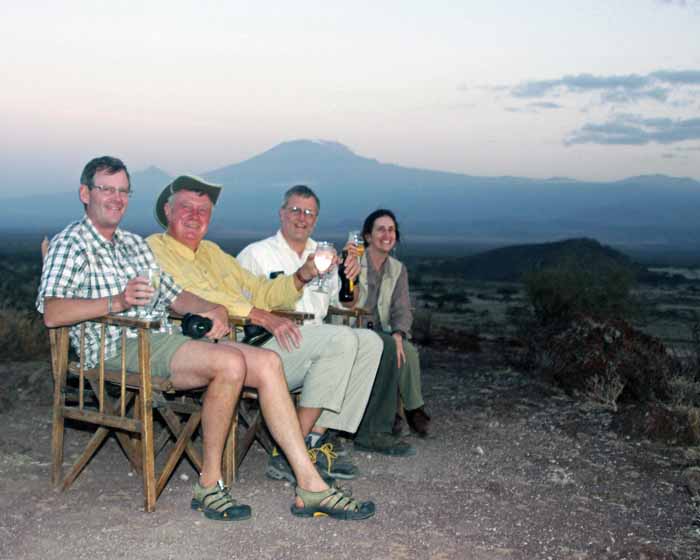 ---